It's hard to imagine trying to teach a youngster how to use the library in the good old fashioned way, what with the advent of computers. The library system seem so easy to navigate nowadays! With a click of the button we can find almost anything we need to. However, it is still a good idea to teach younger children how to physically find the information that they are looking for so that they can learn and understand the world around them for themselves. Enter: Upstart Books which offer a few items to spur children on in their quest for knowledge.
Mr. Crumb's Secret
is a Fribble Mouse Library Mystery. There are several books in the Fribble Mouse series, each of which involve young Fribble. Who is he?
"Fribble Mouse was a small gray mouse who lived in Cheddarville, Wisconsin. Two things really stood out about Fribble. He had an extraordinarily long tail, and he was extremely curious."

In each of the Fribble books, he is in search of information which he has to find by using dictionaries, encyclopedias, magazines, books, telephone directories and, yes, even the internet. All of the books find Fribble at his local library, asking questions of the local mouse librarian. Each book also contains a mystery that must be solved and it is by exploring for facts and piecing together clues and information that each mystery is solved. Written by Phyllis Perry, these books are quite adorable. At a little over 100 pages each, these books are earmarked for children ages 9-12. Check out the following titles from this series: The Secret of the Silver Key
, The Secrets Of The Rock
and The Secrets of the Sea Chest
.
Want to dive into the Dewey Decimal System? Or does the thought overwhelm you (as it does me?) Check out the Duck, Duck, Dewey! game offered by Upstart.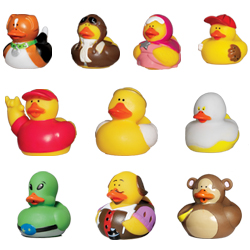 There are ten rubber ducks included in this game, each sporting a costume which represents a part of the Dewey Decimal System. There are 8 Library Lesson games available to play inside of this box (although I suppose you could also create your own) which are designed to familiarize children with the system. For example:
200's – Religion (an angel duck)
700's – Arts & Recreation (baseball player duck)
800's Literature (Shakespeare duck)
This game is a bit over our heads at the present (my son being something shy of 4 years old.) It is designed for grades K-5 and I would say that's just about right, judging by the descriptions of the games. The ducks, however, are a huge hit around these parts and we've used them to talk about different genres of books. (We've also admittedly used them in the bathtub!) I expect we'll be making more appropriate use of these books in the not-so-very-distant-future though. There are book search games, Dewey classification strips for matching games, and thought-provoking games for the young reader/student to learn how to make connections between the categories.
All of these products are great ways to familiarize your child or students with the library system. I've never seen anything quite like these things before and am grateful to Upstart Books for the opportunity to try them out!
Carrie comes by her book obsession honestly, having descended from a long line of bibliophiles. She blogs about books regularly at Reading to Know.