There are some picture books that I've read hundreds of times over the years, either as the teacher reading to a group of preschoolers or as the mom snuggling with her own brood. When I can read a story again and again (times 100!), and still do it with joy and gusto, I believe it says something pretty remarkable about that book. At the top of that list are the wonderful and funny works by author/illustrator Mo Willems. With a collection of characters that continues to grow (he's certainly one prolific writer!), my children and I happily consume his books like crazy.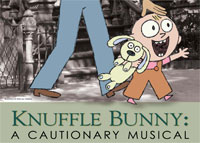 This month sees the transformation of one of Mo Willems' most beloved stories from the page to the stage, with the opening of Knuffle Bunny: A Cautionary Musical at The Kennedy Center in Washington, DC. If you have a young child and are not familiar with Knuffle Bunny: A Cautionary Tale, I will refrain from chastising you, but will instead very strongly encourage you to correct this wrong immediately. Seriously, it's a fabulous book, the kind of book that kids love for its humor and cartoonish illustrations, and parents love for its oh-so-realistic portrayal of the joys of toddlerhood.
When my four year old daughter and I were lucky enough to attend the afternoon premiere of Knuffle Bunny: A Cautionary Musical, we both spent the hour giggling, bouncing and simply enjoying this familiar story come to life and expanded a bit. Dad and Trixie's adventure at the laundromat plays out just as we know so well, now with catchy songs and just the right amount of lines and expressions meant as asides for the parents to appreciate. Gigantic, day-glo dancing laundry and periodic guest appearances by our favorite temperamental city bird add to the fun. The cast portray the feelings of both frustrated toddlers and their just-as-confused parents very well, making the play, like the book, accessible to audience members of all ages.
In the role of Trixie, the not-yet-speaking-words toddler who loves her Knuffle Bunny, Stephanie D'Abruzzo is fantastic. She played the wide-eyed, tantrum-prone, wordless (and occasionally 'boneless') toddler part with sublime perfection! The best connection to this story, in my opinion, is the fact that Knuffle Bunny was inspired by actual experiences, and it was D'Abruzzo herself who gave the real life baby Trixie Willems the stuffed animal that became her Knuffle Bunny.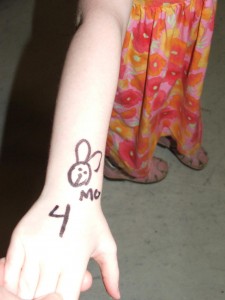 I'm happy to say that I learned that little tidbit during a brief conversation with Mo Willems, who just so happened to be at the performance my daughter and I attended! In honor of her birthday that day, Mo kindly gave her some Knuffle Bunny body art as a souvenir, and I was reminded of his good spirit that most definitely influences the wonderful children's literature that he creates. He also let it slip that there are plans to take Knuffle Bunny: A Cautionary Musical on the road, so if you're not in the Washington, DC area, don't despair, but watch your own local family theater venues for potential shows near you. It's the perfect opportunity to expose your child to live theater and experience a story that is a modern-day classic.
Knuffle Bunny: A Cautionary Musical is being performed at Washington, DC's The Kennedy Center through May 23, 2010. Script and lyrics by Mo Willems himself, and fun music (that sticks in your head for days!) by Michael Silversher.
Dawn and her brood have been big Mo fans since her now-tween son was a Pigeon-loving preschooler. Her love for funny kids' books, her crazy children, and other randomness are all chronicled at my thoughts exactly.