Her name was Joan Lowery Nixon, and she was talking about her book The Kidnapping of Christina Lattimore. I was in the fourth or fifth grade at Lantern Lane Elementary School, and I was impressed. The author shared details about how she mapped out her novels and the writing process. She told us that as the author she did not have input on the cover image, which featured Christina's hands tied behind her back — which never happened in the story.
Why do I remember those specific details all these years later? Because I was a reader, and like many avid young bookworms, I fostered the dream of one day writing novels that would captivate others, making them feel the same way I did each time I opened a book.
I recently covered an author's visit at Amanda's intermediate school. The author was Ann Haywood Leal first-time author of Also Known As Harper. She did all the right things. She increased interest in her book by sharing about how she got some of the ideas for the book and reading an excerpt aloud. But what appealed to me most was exactly what would have appealed to me then: she shared about the writing process including stories and drawings from her early years. I have no doubt that several youngsters left there thinking, "I could write a novel one day." And what a beautiful dream that is to carry.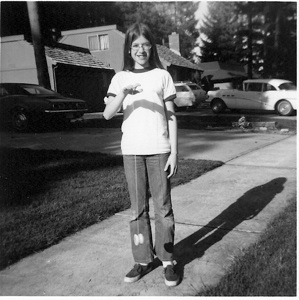 Read my full news story up at Newtown Patch (and read the story behind that picture of Ann Haywood Leal, above, as a 6th grade "book nerd": Author Receives Rock Star Reception.

Do you remember having an author visit your school? Or perhaps a reading or signing that you attended as an adult touched you in some way. What do you remember about it? Like me, did it make you think that you might be able to one day do that yourself?

Right now the writing Jennifer Donovan does comes in the form of book reviews, local news articles, and emails, but maybe one day. . . ? She also occasionally blogs at Snapshot.