Who doesn't like to eat? What kid won't chow down at dinner time after a long and busy day? But where does our food come from? How does it make it from the ground to our plate? Here are a few books to help answer some of these questions.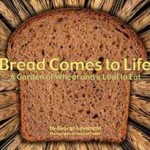 Bread Comes to Life: A Garden of Wheat and a Loaf to Eat (published by Tricycle/Ten Speed Press) explores how wheat is grown, what it looks like and where the grain is on the stalk. Pictures explain how the wheat is ground into flour and bread is made into all the forms which we enjoy it (i.e., rolls, loaves, etc.) Every step of the process of planting wheat to eating the bread is covered by using pictures and simple sentences to explain the most basic terms how bread comes to be.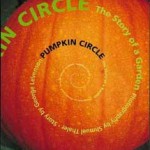 Secondly, Pumpkin Circle: The Story of a Garden discusses how different types of pumpkin seeds grow different types of pumpkins. From the tiniest seed we are made to understand how the plant grows, sprouts and produces pumpkins. We see how they are watered, fed and grown until finally we are allowed the opportunity to enjoy them. Lastly it explains what happens to the carved pumpkins you see on so many people's front porches during the fall season. Pictures document the pumpkin's disintegration until it returns to the ground from which it came. Hence we are able to view the entire pumpkin life cycle.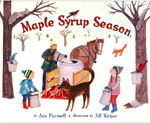 Not to be outdone is Ann Purmell's book, Maple Syrup Season (published by Holiday House). This book is downright charming in explaining how we get that yummy, delicious maple syrup that we love to dribble down our pancakes. This book tells the story of the Brockwell family who make their own syrup. We travel to the woods with them as Grandpa drills the first hole and hammers a spout into the tree, calling out when the "sap's rising!" The family cheers and everyone pitches in to help gather the sap from which they will make their syrup. This book celebrates family togetherness while teaching youngsters where how syrup is made. Excellent book and smartly illustrated by Jill Weber. It's a must read.
I appreciated all three of these books for different reasons. Ultimately, I think they do a great job explaining where our food comes from. I think each one will spark questions and prompt conversation with your children as you choose the food you deem best for your family and make decisions about where and how you go about gathering your food. Check 'em out!
Carrie comes by her book obsession honestly, having descended from a long line of bibliophiles. She blogs about books regularly at Reading to Know.