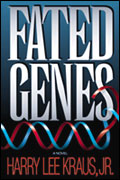 I don't normally do thrillers but this one grabbed my attention. Published by Crossway Books, Fated Genes is a fantastic medical thriller. Written by a Christian surgeon, Harry Lee Kraus, Jr., M.D. communicates in a knowledgeable and gripping manner. Having a queasy stomach when it comes to blood and guts, I thought he was descriptive without being repulsive when it came to the medical aspect of the book.
This book tells the story of three key individuals: Brad Forrest, a young physician who is doing a pathetic job of balance family life with his work, Web Tyson, a prominent physician being considered for Surgeon General of the United States, and Lenore Kingsley, president of a huge pharmaceutical company and priestess in a cult. The three are living apparent separate lives on the surface but the story weaves their lives together on a spiritual plain that is impressive.
Kruas deals with spiritual matters head on in this book. Lenore Kingsley is a Satan worshipper and follows her master in making day-to-day decisions regarding the company. The character of Web Tyson brings various ethical questions to the forefront of the reader's attention, arguing over when a fetus is considered viable. This book deals with scary topics like human sacrifice and the worth of individuals. If you know me at all – you know this is NOT. MY. TYPE. OF. BOOK! However, I thought it was brilliantly done and not so very scary. I found it fascinating! If you like medical stories or thrillers at all, this book is a great one, both for entertainment, for thought and for discussion.
Carrie comes by her book obsession honestly, having descended from a long line of bibliophiles. She blogs about books regularly at Reading to Know.