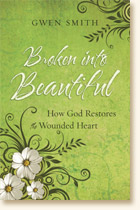 I had never heard of Gwen Smith before I picked up this book. I came across this title and thought it sounded like a message worth exploring. This book is all about how God restores the wounded heart (that's its subtitle) and it is excellently done.
Gwen Smith is incredibly genuine. You know how you can sometimes tell when you are reading a book that the author 'likes the sound of their own voice' and are talking just to talk? Just because they can? Just because they managed to sell the idea of a book to a publisher? Well, that's not Gwen. There was something very real in the way that she shared her own story of brokenness and related various other women's stories that drew me in, as the reader, and encouraged my own soul.
Gwen Smith's story is that she had an abortion in college which she proceeded to keep a secret for the next fifteen years. She had no intention of sharing her story at all because she accepted forgiveness for herself and had experienced God's grace in this particular situation. Although involved in public music ministry she did not feel like she had to share every bit of her past to somehow justify her position in ministry. I do believe I agree with her opinion in saying that it's not necessary to "empty your trashcan" to the general public but it is important to share your story if God asks you to. He asked her to and she has been obedient in doing so, which opens up an entirely different ministry of healing.
In this book she not only shares her story, but the stories of other women and the problems that they have faced in their path. This is not done in a vulgar way at all, but rather exercises a great deal of taste and maturity that I think is quite admirable. Coupled with the fact that she compares each individual woman's story with a story from scripture, this book is quite well done. Smith doesn't leave the answer to life's problems in human hands nor does she rely on human wisdom (or the lack thereof) in facing the sin and dealing with it. Rather she throws her readers in the right direction — before the Throne of Grace.
This book is tasteful, encouraging, compelling and necessary. This book fulfills a need in a sympathetic yet solidly Biblical way for which I am incredibly grateful. After finishing reading the book I hopped on Youtube and watched an interview with Gwen and was left with the same impression of sincerity. She is a beautiful woman and has a beautiful story to share. To learn more about the book or to read an excerpt of it, check out the publisher's, Harvest House website here.
I'd strongly encourage it because I believe you will find yourself blessed in doing so. I know I was.
If you'd like to win a copy of this book, leave a comment and we'll announce one random winner next week (U.S. addresses only).
Carrie comes by her book obsession honestly, having descended from a long line of bibliophiles. She blogs about books regularly at Reading to Know.