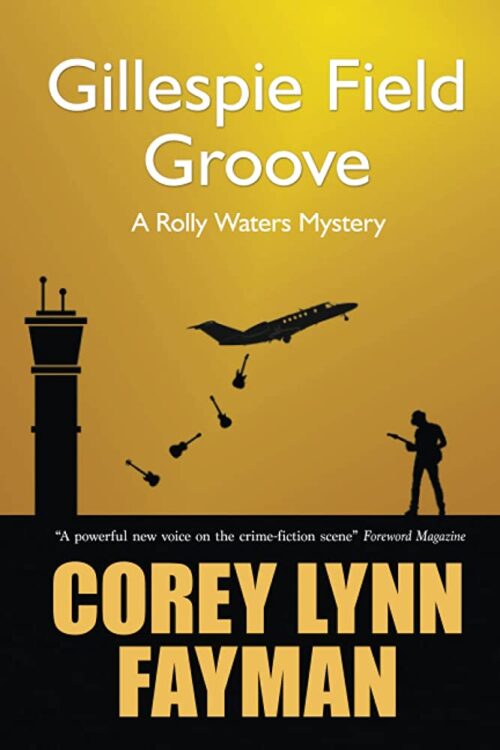 Gerry Rhodes was a roadie for Jimi Hendrix back in the day, doing sound tech, and he claims that Jimi once gave him a white Stratocaster. That was a long time ago though. He's had a hard life, done plenty of drugs, made some bad decisions. But he wants to take care of his daughter, and he leaves her a note saying the guitar should go to her. But where is this guitar? The only thing in the envelope given to his daughter after Gerry's death from a blow to the head is a photo of the guitar in question being carried by a Black man named Otis Sparks. The thing is, Gerry was convicted of killing Otis in the early 70s.
His daughter Lucinda, a nurse/fledgling pilot, hires Rolly Waters to help find out if the guitar is even real. Rolly actually knew Gerry Rhodes slightly. He's a guitar player who had his own problems with drink and now works primarily as a private eye, but he hasn't lost his taste for risk and adventure. He begins by finding out what he can about Otis, and that leads him to Roger Sledge, a music producer, guitar collector, and all around bad-guy. Roger's latest wife is a young blonde Russian beauty, with no musical talent to speak of but with a very creepy "uncle" who keeps showing up with bodyguards. Before you know it, the FBI are involved, and Rolly is on the trail of the elusive "PJL." Rolly never loses sight of the prize though, even as he makes some risky assessments that may end with his getting tossed out of an airplane if he doesn't play his cards right.
Gillepsie Field Groove is actually a super-fun read. It has elements of noir private eye, classic rock and aging guitar players, mysterious blonde Russian women, and other tropes that are fresh enough to stimulate while being classic enough to be enjoyable. My husband plays guitar and is a Hendrix fan, and that only deepened my enjoyment of Rolly's adventures. The novel is well-written, the characters realistic, and the adventure never-ending–even when it's Rolly having to move in with his mother for a bit. Highly recommended.
Book Links:Amazon | Barnes & Noble | BookShop.org | Goodreads
Author Bio:
Corey Lynn Fayman has worked as a musician, sound technician, and interactive designer. He holds a B.A. in English, with a specialization in creative writing and poetry from UCLA, and an M.A. in Educational Technology from San Diego State University. Fayman spent five years as a sound technician and designer at the nationally lauded Old Globe Theatre, where he received several nominations and a Drama-Logue Award for his theatrical sound design. He's worked as an interactive designer for organizations both corporate and sundry and has taught technology and design courses at various colleges and universities. He lives in San Diego, California, and is the author of four Rolly Waters mystery series, including Blacks Beach Shuffle, Border Field Blues, and Desert City Diva (2015 Indiefab Book of the Year bronze award). The fourth in the series, Ballast Point Breakdown, was honored with the best-in-show Geisel Award at the 2021 San Diego Book Awards.