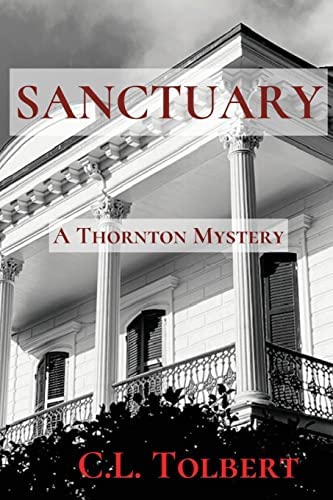 James Crosby is the leader of a sort of pseudo-Hindu cult/temple in New Orleans, and he makes no secret of the fact that he likes to snort a certain kind of white powder, nor of the fact that his son's mother is not his wife and that both women live with him at the temple. But when he's found murdered, given a lethal injection of ketamine and fentanyl and then pushed off a balcony, the police initially suspect someone quite different–a young girl named Stacey who's been living at the temple and who gives massages in exchange for room and board.
After her arrest, Stacey calls Emma Thornton, a lawyer who represented her pro-bono when she was arrested for being homeless 3 years earlier. Emma agrees to take on the case, and turns all her energies to proving Stacey's innocence, of which she is quite convinced.
Honestly, I would want a lawyer like Emma. She puts all her time and energy into hunting down clues and sniffing out suspects, and puts her own life in danger several times for her client. In doing so, she not only discovers some darker dealings around the temple, but discovers who not only wanted James out of the way, but who would also want to frame Stacey.
Sanctuary is the sort of book where the place itself is as much as a character as any of the humans in it. Stacey and Emma are both engaging characters as they run all over New Orleans either in search of the killer or hoping to avoid him or her. The title muses on what it means to truly find sanctuary, and how we can sometimes be fooled into thinking we're safe when we're not. An interesting read.
Book Links:Amazon | Barnes & Noble | Goodreads
Author Bio:
After winning the Georgia State Bar Journal's fiction contest in 2010, C.L. Tolbert developed the winning story into a full-scale novel. OUT FROM SILENCE was published in December of 2019, and is the first novel in the Thornton Mysteries series. Her second book, THE REDEMPTION, was published in February of 2021, and SANCTUARY, the third book in the series, was published in July of 2022. Licensed in Mississippi, Louisiana, and Georgia, C.L. practiced law for thirty-five years before retiring to pursue writing. During her legal career she spent several years teaching at Loyola Law School in New Orleans, where she was the Director of the Homeless Clinic. She also has a Masters of Special Education, and taught in a public school prior to enrolling in law school. C.L. has two children and three grandchildren, and lives in Atlanta, Georgia with her husband and schnauzer.