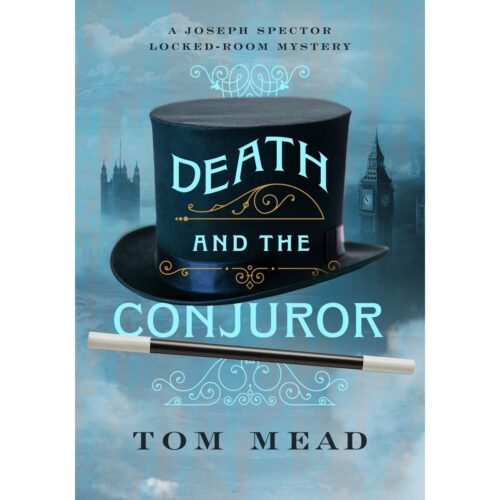 The detective from Scotland Yard knows the time of death almost to the second–there were only about 3 minutes between when celebrity psychiatrist Dr Anselm Rees was heard talking on the telephone from his study and when a new arrival at the door caused the housekeeper to discover the study door locked and, when forced open, the doctor dead inside, his throat slit. But who and how remain a mystery. The windows were locked, and a recent rainstorm revealed that there were no footprints that approached the French doors to the terrace for at least an hour before the time of death.
There are, however, plenty of suspects. The doctor's daughter and her dissolute fiancé give each other alibis, but the alibis fall apart with a little careful research. And there are the doctor's three patients, all of whom struggle with various forms of mental illness. Faced with such a puzzle, Detective Flint calls in his old friend Joseph Spector, a conjuror. Joseph has to use all his knowledge of tricks and illusions, and his questioning leads in some unusual directions. Then, the duo are presented with an impossible theft and yet another murder–this one a corpse found in an elevator that hasn't moved. Are the cases connected? They must be, but how?
Death and the Conjuror is set in pre-WW2 London and features lots of allusions to classic murder mysteries of the time, in particular Dickson Carr's quintessential work The Hollow Man (which contains a discourse on locked-room mysteries), but also with references to Sayers, Wodehouse and Chesterton. As such, it is a delightful read and one I really enjoyed. Sometimes when modern authors try to recreate a mood from the past the results are wooden and stilted, but author Tom Mead manages to create a lively cast of characters and an intriguing puzzle. Highly recommended.
Author Bio:
Tom Mead is a UK crime fiction author specialising in locked-room mysteries. He is a member of the Crime Writers' Association, International Thriller Writers, and the Society of Authors. He is a prolific author of short fiction, and recently his story "Heatwave" was included in THE BEST MYSTERY STORIES OF THE YEAR 2021, edited by Lee Child. DEATH AND THE CONJUROR is his first novel.
Plus, join the Instagram – #TomMead Party 😀