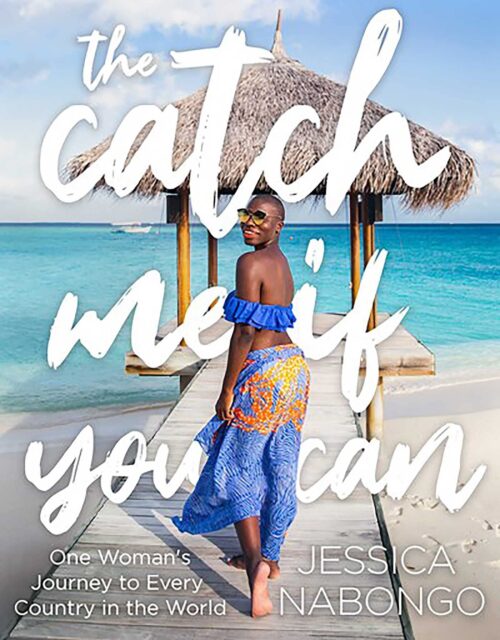 Born in Detroit to Ugandan parents, Jessica Nabongo's life was never typical. From a very multi-cultural upbringing that included global cuisine in Detroit, to visits to her parents' home villages (her mum from the Southern Hemisphere; her dad from the Northern. Did you know the equator goes right through Uganda?) or quick trips to Canada, she was given wanderlust as a heritage. But it wasn't until her early 20s, already well into the corporate grind, that she spontaneously decided to truly become a citizen of the world. She quit her job, shaved her head as she was sure she wouldn't find anyone who could style Black hair, and moved to Japan to teach English. She never looked back, and ended up setting a goal to visit all 195 countries by her 35th birthday. And she makes it–a couple of months after, but close enough.
The Catch Me If You Can describes Jessica's journeys to every country on earth–even small island nations like Comoros or Narau, even hard-to-get-to places like Cuba, North Korea and Afghanistan (in 2018, I'll clarify). It's a fascinating book. I thought I'd just skim a few pages and write a review, but instead I find myself reading it cover to cover. Of course I began by checking countries where I myself have lived and it was interesting to read descriptions through her eyes. Naturally she wasn't able to spend a lot of time in any one place, with exceptions such as London (where she got her Masters), Rome, and Benin, a small West African nation where she spent several months, but she managed to cram a lot into even short stays; dog-sledding in Finland, swimming with a whale in Tonga, discovering 100s of ancient pyramids in Sudan, visiting the ancient city of Chinguetti in Mauritania. (I've been there!)
Jessica describes the good and the bad, telling us about difficult border crossings (unsurprisingly, given that she is Black, her worst stories are in the US) and broken down taxis and visa snafus and lost luggage, but emphasizing the generosity and hospitality she found, the beauty both natural and man-made, the histories discovered and connections made. Her traveling companions included friends, boyfriends, and even complete strangers met on the internet, plus some solo trips. Her tenacity and flair shine through. Additionally, this is a book that will make you hungry! Jessica enjoys good food, and she is always mentioning fantastic meals she was served. Her connections through blogging as well as her time at the UN meant that she was often welcomed into homes and invited to parties, giving her deeper glimpses into everyday life of each country's inhabitants.
This is one of those times when I want to tell you some of her stories, and I want to write a really long review, but I won't. It's gorgeously photographed and handsomely bound, would make a great grad or dad gift, would be a conversation starter on your coffee table, whatever. Just go get the book.