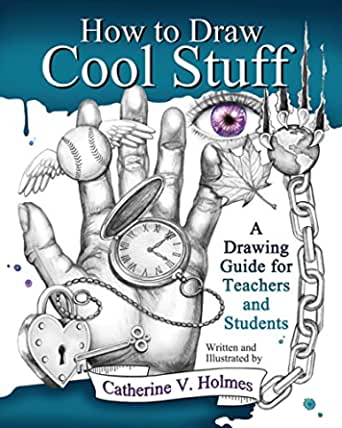 I'm not an artist. My dad was an artist, although he never trained and painted as a hobby. My husband is a photographer, and his images from our travels hang on our wall . My daughter though–she has an undergrad in painting from a well-known art school and lives in New York. So I'm surrounded by talented creative types, and frustrated by own inabilities. Could even Catherine V Holmes teach me to draw? I was skeptical.
So, gentle reader, am I now capable of drawing cool stuff? Well… I might be beyond even the reach of Holmes. On the other hand, I am making progress.
How To Draw Cool Stuff is a great book for the aspiring artist, or for someone who wants to do art classes with someone. Say, for example, it's summer and your kids are already bored and it's too hot (the American Southwest) or cold and wet (the Pacific Northwest) to send them outside and you're limiting screen time. Voila! Problem solved, except for the whining. I can't help you with that.
Holmes begins with the basics of drawing—shapes, shading, cross hatching, foreshortening, etc. With her help, I drew a box and cone that almost look 3-D if you squint your eyes. I drew a sad, leaden ball–I can't draw circles freehand–but I like to think it just looks deflated. I drew a birch tree that I'm actually quite proud of. I drew a fairly decent dove with lopsided wings and a fish that basically looks like a fish.
Perhaps the best part of this is that I have spent several cool grey evenings shading pencil over paper instead of doom scrolling or watching something mindless. The effort to produce something beautiful is good for the soul, even if the end result shows that I'm still a beginner.
And I have only done the first few pages of the book. Awaiting me are step-by-step instructions on the elements of the human face (I am excited about this), animals and creatures (me for the oriental dragon!) and the aforementioned "cool stuff"–like melting clocks, pointing fingers, cool lettering styles, and much more.
This is really a great book to have on your shelf, amazingly versatile, whether you use it or have it available for someone else. It's great for all ages, and can provide fun interaction or be used in solitude.