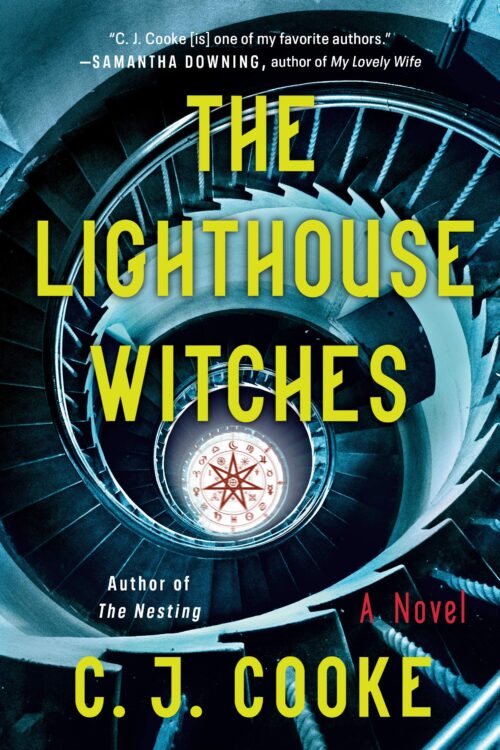 C. J. Cooke is an awesome writer. I want to start with that. This is the second book of hers that I've read, and I absolutely cannot put them down, except I make myself so I can savor them. The Nesting was a creepy delight, and I don't even like creepy books.
The Lighthouse Witches is as full of delightful twists and curves as the staircase on the cover. It opens with the arrival of Olivia and her 3 daughters on the remote Scottish island of Lon Haven. Olivia's running from–well I won't say–and the 4 of them arrive unexpectedly one evening. Sapphire, Saffy for short, is 15 and rebellious. Luna is about 10 and Clover is 7. Olivia has been hired to paint a mural on the inside of an ancient lighthouse, its floor awash in debris, its staircase worn and dangerous. The owner of the lighthouse has a very specific design in mind. He's a mysterious character in his own right, and his design is a bit…weird.
Fast forward 22 years with the turn of a page. It's modern day, and Luna is an adult who was raised in foster care after her mother and sisters went missing. She has never stopped searching for them, and when she gets a call that Clover has been found, she and her boyfriend race north to Scotland, hoping that this will actually be her sister. Her shock (and ours) when confronted with a Clover who is still 7 is profound.
Lon Haven has a long history of witch stories–witches being tortured and burned, and retaliating by sending wildlings among the population–creatures who look like children who've gone missing but who are inexplicably different and must be killed to protect the population. Luna wonders: is Clover a wildling? What other explanation could there possibly be for her disappearance and reappearance? And what could explain the weird tattoo on her skin?
The Lighthouse Witches is a great story. It keeps you guessing, you care about the characters, the ending is so satisfying, and it's just a fantastic read. It's definitely a book you'll want to read and reread. I highly recommend it.