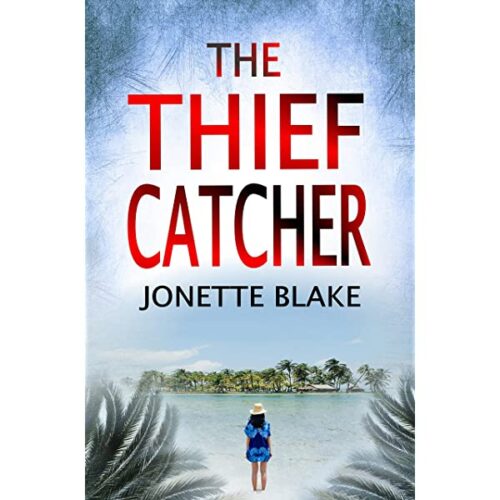 Delia Frost just wants a family vacation. She's left her job in a bank, and her husband wants them to travel Australia in an RV. Delia's got a better idea though. The two of them pay for their adult children to join them–Georgia from Europe and Tristan from Africa–and the 4 of them meet at a resort on a tropical island. Perfect!
Or not. For a start, there are always complications with adult children. (I know–I have 3 of them myself!) For another, there are all these mysterious thefts (of everything from expensive rings to knock-off sandals) not to mention a couple of disappearances. And things don't add up. What is going on in paradise? Delia finds herself drawn in to the mystery.
The Thief Catcher is more character-driven than your typical murder mystery. Although Delia is trying to solve the matter of the thefts, she's also trying to figure out her son's supposed engagement to Mary (whose story doesn't quite add up) or worrying on the phone to her sister, who is petsitting for them, or thinking of her husband, about to celebrate a birthday, recovering from a heart attack. Still, there's plenty of mystery, including the appearance of a man from Delia's recent past, a reminder of a time her life was in danger.
This is book 2 in a series about Delia Frost, and while it stands alone just fine, I did find myself wanting to catch up with the events of book 1. Delia is a sympathetic character, juggling her own needs with her worries about her family. As things heat up towards the end and the reader knows of two murders, will Delia manage to not only solve the mysteries of the resort and the mysteries of her children, but manage to keep herself alive and well?
Author Bio:
Jonette Blake writes supernatural thrillers and suspense thrillers. She is the author of over ten books and dozens of short stories, writing as D L Richardson. ​She was born in Ireland and grew up in Australia. She lived through the 80s and music is still a big part of her life. When she is not writing, she plays her piano and guitar, listens to music, reads, and enjoys the beach. ​She has held jobs in administration, sales and marketing, has worked in HR, payroll, and as a bank teller. Her latest novel "The Widow Catcher" is based on the coastal town she lives in and her own bank teller experience.