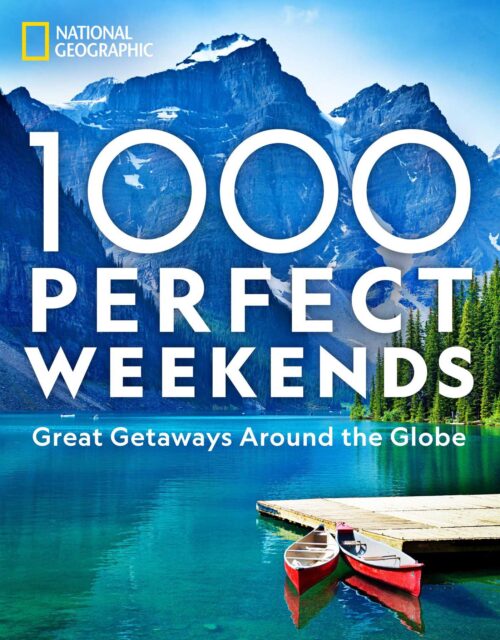 I don't know about you, but at this point in the second year of a global pandemic, the thought of a weekend getaway feels irresistible! Given time and budgetary limitations, not to mention lingering travel restrictions, this might be a good time to plan future trips instead of taking them. This book is timely. It's exactly what the title says–1000 ideas for weekend getaways, all round the globe. Whether you want beach or mountains, a tour of a city or a hiking trail to yourself, this book has an idea for you. Take your pet to a dog carnival, take the family camping, or experience stargazing or the northern lights on a magical weekend escapade.
Want a weekend of food and wine? Try the Bourbon Trail in Kentucky, or sample port wines in Portugal. Want something that friendly to the environment? Stay at a zero-waste hotel in Kamikatsu, Japan, or an off-the-grid ecolodge in Jordan's wilderness. There is literally something for every taste in this book. whether you want to play with sharks in the Bahamas, or soak in mineral hot springs in Banff, Canada. You can choose to stay close to home, or travel the globe–from Argentina to Iceland to Botswana or Nepal. Visit battlefields, or television locations. Indulge yourself on golf courses or at film festivals. There are even adult space camp and adult summer camp options.
1000 Perfect Weekends is just what it claims to be. Ok, admittedly some sound better than others, but the book is packed with gorgeous photos (it is National Geographic after all) and tantalizing descriptions. It's amazing how much of a feel for a place you can get in just two or three days, and this book has a myriad of ways to spend your time. The size and quality make it a great idea for a Christmas present for your friend who also dreams of traveling the globe.