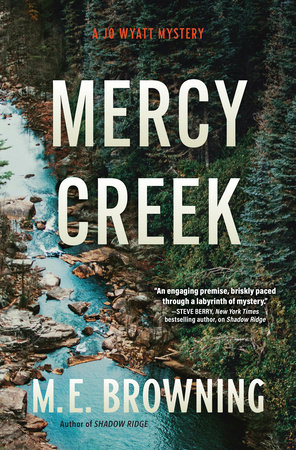 11-year-old Lena Flores is shy, young for her age, and lives and breathes animals. It's natural that she'd want to be in the livestock pen at the county fair, showing her prize steer, instead of trailing her older sister, 15 year old Marisa, who's already an influencer getting sent name brand items for free. But their mother has sent them both to the fair, putting Marisa in charge of looking after Lena. Neither sister is happy with the arrangement.
So when Lena is missing next morning, her mother calls it in. Detective Jo Wyatt and her partner come to interview her. The problem with being a cop in a small town is that there is often a history between policemen and civilians, and this case is no exception. Jo, Tilda, and Tilda's ex, Lucero, were all high school friends, and Jo knows something of their history from way back, something of Lucero's temper.
But there are other potential suspects, like the heavily-tattooed carny who was bothering Lena, or the college football player who seemed so interested in Marisa. One thing Jo knows–she can't let her own personal backstory stand in the way.
Mercy Creek is the second book following Detective Jo Wyatt set in the small Colorado town of Echo Canyon. It's well-written and evenly plotted, with realistic characters that draw you in. As Jo digs deeper in the Flores family's secrets, hidden grudges and half truths, she's unerring in her search for truth and her dislike of office politics. She's a sympathetic character, and I'm enjoying this series. Highly recommended.
Author Bio:
M.E. Browning writes the Colorado Book Award-winning Jo Wyatt Mysteries and the Agatha-nominated and award-winning Mer Cavallo Mysteries (as Micki Browning). Micki also writes short stories and nonfiction. Her work has appeared in dive magazines, anthologies, mystery magazines, and textbooks. An FBI National Academy graduate, Micki worked in municipal law enforcement for more than two decades and retired as a captain before turning to a life of crime… fiction.