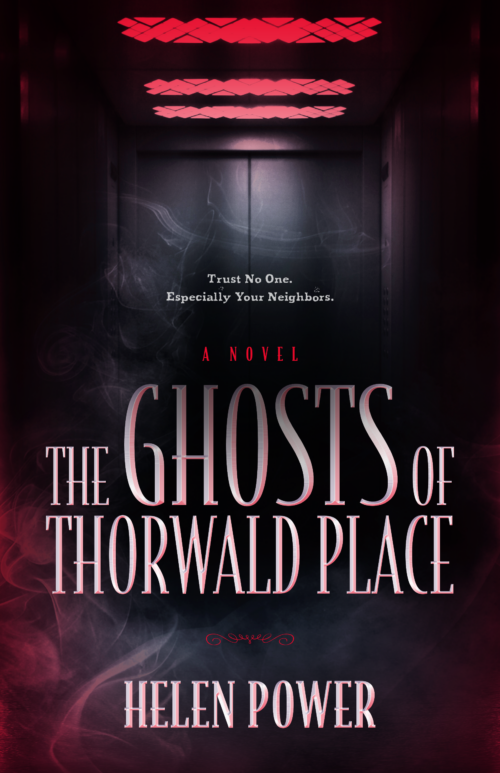 Rachel Drake never leaves her apartment if she can help it. After her husband's murder, she changed her name, changed her location for an exclusive address with a doorman, and changed her occupation. Now she volunteers with a crisis hotline, talking to women trying to flee domestic violence. It seems that her past has caught up with her, though, when she is brutally murdered in the elevator while in a headlong flight for her life.
Now it seems she is doomed to stay in or near the elevator, invisible to all the living, and powerless to stop any situations that arise. She uneasily haunts her former building, getting to know her neighbors and all their secrets. She watches the abused wife while aching to help her, sees the pain of an aging trophy wife, observes the teenager who's dabbling in the occult, and the man who spies on his neighbours with a telescope. She sees the cheating husband, and the surgeon who keeps a dark secret hidden in a closed room. Worst of all, she finds out that she is not Thorwald Place's only ghostly inhabitant. There's something darker lurking in the storage area, and he/it poses a danger not just for the living, but for the dead as well.
The Ghosts of Thorwald Place is an entertaining read and I thoroughly enjoyed it. I'll be honest–I don't normally like horror, or occultic paranormal stories, but while this novel has elements of those, it's more of a suspenseful thriller tone. It's the kind of ghost story you can curl up with and enjoy with a good cup of tea–perfect for the month in which your neighbors have chosen to turn their front yard into a cemetery. Highly recommended.
Author Bio:
Helen Power is obsessed with ghosts. She spends her free time watching paranormal investigation TV shows, hanging out in cemeteries, and telling anyone who'll listen about her paranormal experiences. She is a librarian living in Saskatoon, Canada, and has several short story publications, including ones in Suspense Magazine and Dark Helix Press's Canada 150 anthology, "Futuristic Canada". The Ghosts of Thorwald Place is her first novel.