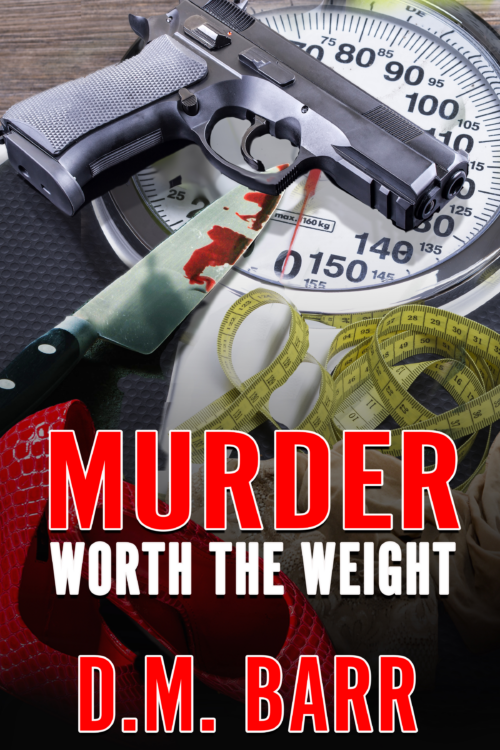 Camarin Torres is all too aware of the pressure women feel to be thin and beautiful. She grew up with a demanding mother who'd never let her eat without counting the consequences, and an aunt who held an exorcism when her twin gained weight on epileptic meds. When she sees a woman berating a stranger who is daring to eat a KitKat bar, she sticks up for the overweight woman. That leads directly to her meeting the handsome Lyle Fletcher. Fletcher hires her to work at his magazine Trend, but Camarin's only interested in changing it from a magazine critical of women to one which is supportive of women.
Her dream is to be an investigative reporter. She ignores the fluff pieces she's getting assigned and begins an investigation into a local murder–a woman who ran a weight-loss clinic was murdered and her body carved into a slimmer version. Soon she begins to see a pattern.
Terry Mandel is a traveling weight-acceptance evangelist, packing stadiums full of women who long to hear that they're fine just the way they are–and spend thousands on his merchandising and conferences. Camerin is the first to notice that everywhere he goes, someone connected to the weight-loss industry dies. She's determined to investigate.
Meanwhile, she and Lyle are falling in love, in spite of the fact that he's her boss and almost 20 years older than she is. (There are some steamy scenes!) But as she gets closer to investigating Terry Mandel, she soon finds herself in danger too. Worst of all, Lyle seems to be connected somehow. What does Lyle know? Is Terry involved? Camarin is determined to find out at all costs!
Murder Worth the Weight is a fun read. Camarin may be a body acceptance crusader, but she still has a ways to go towards mental health. That doesn't stop her from being an appealing heroine. The book had me turning pages long past my bedtime.
Author Bio:
By day, a mild-mannered salesperson, wife, mother, rescuer of senior shelter dogs, competitive trivia player and author groupie, happily living just north of New York City. By night, an author of sex, suspense and satire. My background includes stints in travel marketing, travel journalism, meeting planning, public relations and real estate. I was, for a long and happy time, an award-winning magazine writer and editor. Then kids happened. And I needed to actually make money. Now they're off doing whatever it is they do (of which I have no idea since they won't friend me on Facebook) and I can spend my spare time weaving tales of debauchery and whatever else tickles my fancy. The main thing to remember about my work is that I am NOT one of my characters. For example, unlike as a real estate broker, I've never played Bondage Bingo in one of my empty listings. As a yo-yo dieter, I've never offed anyone at my local diet clinic. While I'm a bit paranoid, I've never suspected my husband of wanting to murder me for my inheritance. Well, that's not entirely true, but let's go with that for now. And while I've volunteered at senior centers, I've never mastered the hula hoop. But that's not to say I haven't wanted to…
Catch Up With D.M. Barr:
DMBarr.com
Goodreads
BookBub – @DMBarr
Instagram – @authordmbarr
Twitter – @authordmbarr
Facebook – @authordmbarr