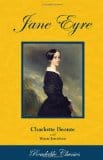 Before I started my own blog in January of 2007, I followed several blogs daily (yes, I was a lurker). One of the blog topics that always captured my attention was books/reading. I love to read, so I enjoyed following along with reading challenges and blogs about books. As soon as I started my own site, I jumped into the reading community by participating in challenges; and eventually, I became a contributor at 5 Minutes for Books.
I have always been a reader, but reading challenges and my work with 5 Minutes for Books have helped me to expand my horizons in a very specific way: I now read classics—for fun. I first joined the classics scene by reading all of Jane Austen's books (it seemed that everyone in Blogland adored Jane), and since then, I have read many other classic titles.
Last year, however, I read very few classics. I was sick for much of the year, and I was just too tired to do the work that reading classics involves. I specifically remember trying to read Jane Eyre for the Classics Bookclub. I didn't make it past the first two chapters because I kept falling asleep! I hated to put it down because I knew it was a well-loved story, but I just couldn't muster the energy.
Not long after that, I learned about the Readable Classics version of Jane Eyre….
Read my full review of Readable Classics on 5 Minutes for Mom, and enter to win one of the three published Readable Classics titles!
Comments are closed here to remind you to check out the full review over at 5 Minutes for Mom.
Book blogger Lauren is a wife, a mother of two, an avid reader. She blogs at Baseballs and Bows. Thanks to the author for the review copy of the book.