Did you know that April 5, 2010 is a holiday? Okay, it's really not. But, it is opening day for Major League Baseball, and on our family calendar, it's a red-letter day! In honor of Opening Day, I would like to recommend several of Simon and Schuster's new baseball books for young readers.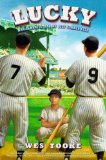 Lucky: Maris, Mantle, and My Best Summer Ever
is a fabulous book for ages 9 and up. Louis May, a young boy adjusting to his parents' divorce and a new step-family, finds himself working as a bat boy for the New York Yankees during the summer of 1961 (this is the summer that Mickey Mantle and Roger Maris spent chasing Babe Ruth's home run record). Author Wes Tooke masterfully weaves together the details from baseball history with the fictional life of Louis May to create a heart-warming and fascinating story. I felt like I was experiencing the excitement of the season from the dugout with Louis. I highly recommend this book for any young baseball fan, and truly, I enjoyed it myself (so much that it almost made me like the Yankees).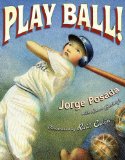 Play Ball!
is the story of young Jorge Posada learning to be a switch-hitter. This picture book is recommended for ages 4-8, but I think even an older reader, particularly a fan of the Yankees, would enjoy this book. Through this book, Jorge Posada shares stories from his childhood with an emphasis on how he worked diligently to achieve his dreams. I felt that some parts of this story were choppy; smoother transitions between different settings would have been helpful. For young baseball fans, however, it is a positive story about one of MLB's best, and I know my baseball-loving son enjoyed it immensely. A portion of the proceeds from this book benefit the Jorge Posada Foundation, which helps children with Craniosynostosis.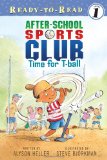 For the earliest readers, Time for T-ball
is a new baseball book in the Ready-To-Read series. It is a level one book, and the simple story is about a group of children learning to play t-ball together and learning to be good sports. As the mom of an emerging reader, I like the Ready-To-Read series, and this story would be a great way to hook the interest of a young reader who is a sports fan as well.
In our family, books and baseball are loved by all, and a combination of the two is even better! Now that I have recommended these books, I think I'll sit back and enjoy the games. Let's play ball!
Lauren is a wife, a mother of two, an avid reader. She blogs at Baseballs and Bows. Lauren thanks Simon and Schuster for providing the review copies of these books.