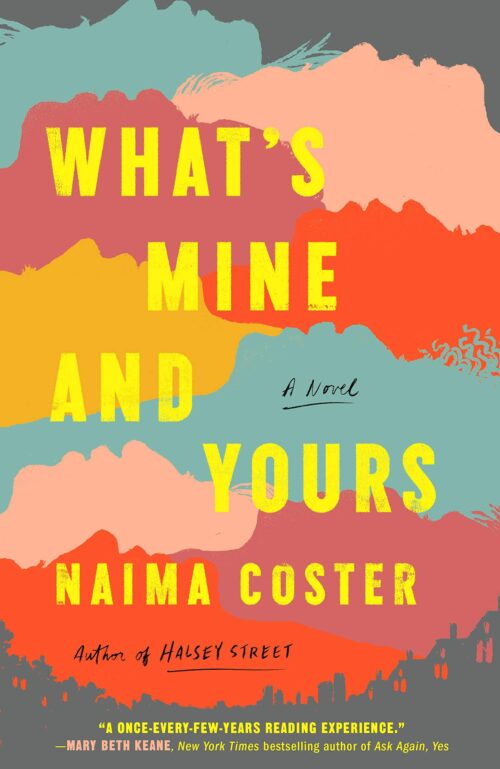 Before I get into the review, I just want you all to know how long it took me to realize the cover art is alternating profiles. I thought it was just colored blobs. But if you look closely, those are upturned faces and hair, and a skyline at the bottom. What can I say, it's been a year.
If you've read the synopsis of What's Mine and Yours, you probably think it's about two teenagers, one black and one white, who meet in a newly integrated high school, brought together by a play. And that is part of the story. But to say it's the focus would be ignoring the rest of the story that takes place. Gee and Noelle, the teens, don't even meet until close to halfway through the book.
The story starts with Gee as a young boy. He witnesses his stepfather's murder, an event that will understandably influence the rest of his childhood and adolescence.
But What's Mine and Yours has an ensemble cast, and we switch to Noelle's mom, Lacey May, as she struggles to house and feed her 3 daughters while her husband is in prison, and then to Noelle and her sisters as adults who have been beckoned home when Lacey May is diagnosed with cancer. Each of the women has their own struggles in life and are not thrilled with returning to see the mother they separated themselves from as soon as possible.
What's Mine and Yours deals with many themes – racism, poverty, sexuality, marriage and infidelity, teen pregnancy, drug use, social media, and so much more. There's a lot packed into the pages. And I almost wish there was more focus on Gee and Noelle as teens and the progression of their relationship instead of spending so much time on other characters.
This review sounds like I didn't like What's Mine and Yours; I did enjoy it very much, once I realized the direction the story was going and how the different timelines all tied together. I have a feeling this book will be highly lauded for the characters, themes, and deservedly so. It is not a quick or easy read, but it's definitely a good one.