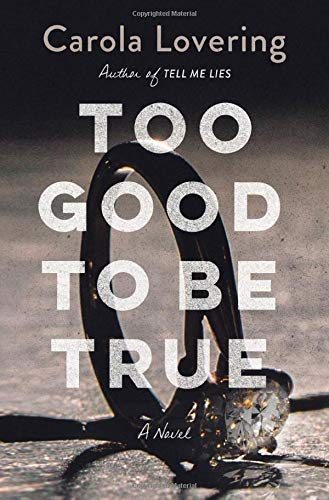 The synopsis of Too Good To Be True by Carola Lovering makes it sound like a thriller, and in fact Goodreads tags it as such. But it's not really a thriller. It's a contemporary story of a woman who falls in love with a guy who is not what he seems, but the story takes some interesting and unexpected turns. However twists, in my opinion, does not a thriller make.
Skye thinks she's met the man of her dreams, and due to her OCD, has not been very lucky in love until this point. Burke not only accepts her compulsions but loves her anyway, and when he asks her to marry him after a short courtship, she accepts without question.
However, Skye's story alternates with letters Burke has written to his therapist, and it doesn't take long before the reader knows what he's really up to (no spoilers!). And there's a third POV – Heather, who is a teenager back in the '90s, telling her story — the family she nannies, her relationship with Burke, her desire to get out of her poor neighborhood.
The first half of Too Good To Be True sucked me in. As I tried to figure out what Burke was really up to, how Heather's past fits into the present-day story, and when and if Skye would figure out the truth, I turned the pages as quickly as I could, enraptured.
However, the second half was a bit of a let-down. Once the truth is revealed, the story meanders, feeling more like a very long epilogue, to paraphrase a Goodreads reviewer. There are a few secrets revealed along the way, and I was invested enough that I had to know the ending.
I gave this 3.5 stars because the first half was so good. I just wish the ending was as good.