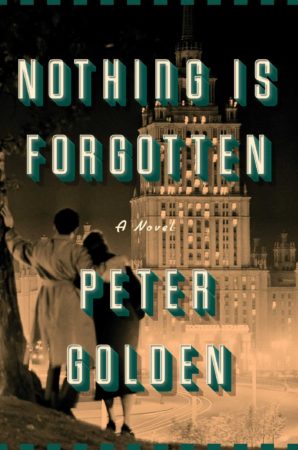 Nothing is Forgotten is one of those books with a plot that's hard to describe without giving away major plot points. It takes place in the 1950s, in the shadow of World War II, when the Cold War was going strong yet the Holocaust was still fresh in everyone's minds. The protagonist is Michael Daniels, who realizes he knows very little about the grandmother he has idolized his whole life.
Michael's experience as an underground deejay takes him from New Jersey to Europe where he meets Yuli, who is mysterious and beautiful and has her own secrets to keep. He works with the CIA, is chased by the KGB, and has his portrait drawn by Picasso, all while chasing down the truth about his grandmother's past.
It's clear Golden did his research for Nothing is Forgotten. Having grown up in New Jersey I was very familiar with the people and locations in the story, but the descriptions of postwar Germany and France also brought those places to life. There are also wartime scenes that are horrific and Nazis, both men and women, who are deplorable.
The story is mostly told from Michael's point of view but on occasion switches to other minor characters, which was at times jarring and a bit confusing, but serves its purpose. I also got a bit lost in all of the players and how they were all connected; who the good guys and bad guys are isn't always clear.
But I stayed up way too late reading Nothing is Forgotten, desperate to find out how it ended and if Michael gets the answers he's looking for, and I recommend this book to fans of World War II fiction or just a good page-turner.