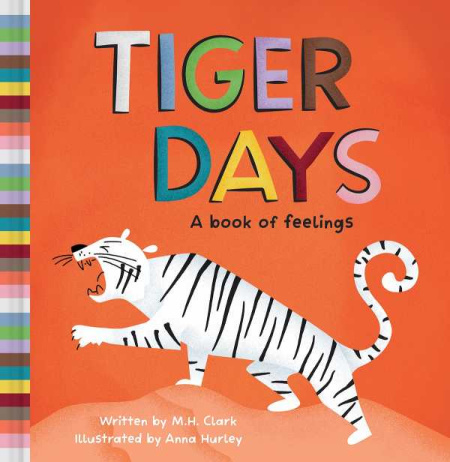 Young children can often feel overwhelmed by their emotions, and in a new picture book written by M.H. Clark and illustrated by Anna Hurley, feelings take the form of animals with familiar behaviors that pair perfectly with the huge feelings that kids can experience!
Tiger Days shows a pouncing tiger to embody an energetic child's mood and this cover image with its bright orange background certainly captures the sentiment. On a deep turquoise background, a blue fish represents a melancholy kind of feeling, and on those fish days, a child feels like crying, even if they don't know why. On monkey days, as one might predict, there's an overwhelming silly feeling that brings laughter and happy play to a child's day, while a rhino day sees a stubborn feeling take root. Do any (or all!) of these sound familiar in regards to the children in your life?
With these and several more animal-themed representations of feelings, young readers and the adults in their lives are given a context for talking about simple and more complex emotions and what they're like to experience. I quite like the comparisons, because they are just the right level of silly to appeal to kids and to make the topic approachable. Each feeling is also given the same amount of acceptance– no emotion is 'good' or 'bad,' they are simply ways we all may feel at different times. This is an important message to send to young children who are still learning how to both identify and manage their emotions.
This picture book makes it easy and fun for kids to explore the idea of the wide range of feelings they may experience, and it is a wonderful addition to this important theme in children's literature.