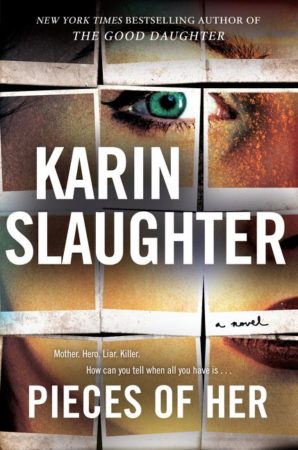 Andrea is having lunch with her mother, Laura, when a gunman enters the restaurant and starts firing. Paralyzed with fear, she's shocked when Laura not only confronts the shooter, but takes him down single handedly.
When Andy later defends her mother against a home invader, Laura tells her to run, giving her the location of a storage unit several hours away. Andy quickly realizes she knows nothing about her mother, and she's determined to find out the truth.
The chapters in Pieces of Her then alternate between the present, with Andy chasing down clues to her mother's past, and 30 years ago, where Laura's place in a conspiracy plot is slowly unfurled. I don't always love the past-and-present format but it really works here. Like most current fiction there are twists and turns but they're not out of left field, and I enjoyed trying to figure out the real motivations behind some of the characters in Laura's past.
I could have sworn I had read other books by Karin Slaughter but a search of my reading history tells me I haven't. I will definitely have to remedy that as I enjoyed her writing style and the fast pace of the story. The rights to Pieces of Her were acquired for a series adaptation and I think it will make a great TV show.