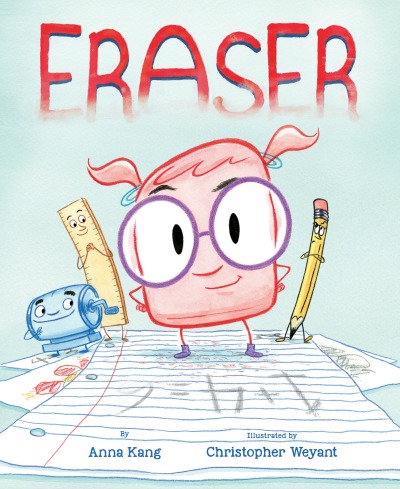 Looking for a book to share with a child that emphasizes the importance of unique abilities? The latest picture book from award-winning team Anna Kang and Christopher Weyant, Eraser, brings familiar writing and drawing tools to life to show just how important each of us truly is.
Eraser, an adorable, pink pony-tailed, bespectacled desk mate knows that she contributes in important ways to the projects that she and her fellow tools undertake. But it doesn't seem that Pencil, her most-frequent partner, sees that, and she's a little tired of watching Pencil and others get all the attention and credit for a job well done. Why are they the only ones who get to be called creative? As she sits with her pals, among them an old-school pencil sharpener and a classic wooden ruler, she comments on the unique ways in which her 'peers' are useful– Tape and Glue bring others together (even pipe cleaners and buttons!), Paper inspires everyone– and she's feeling more than a little undervalued.
In an attempt to be seen in a new light, Eraser tries some different techniques in her work, but Pencil criticizes her attempts, and she decides enough is enough. She asks her friends to assist her in making an escape (in a funny way!), and as a result, she discovers some new pals who help to remind her of her true value to the shared work effort. These "first draft" pieces of paper help her to realize that she does, in fact, create— she creates second chances! In her absence, Pencil learns a bit of a humbling lesson, and upon Eraser's return, she expresses her appreciation to her partner.
I love the creative way Kang and Weyant have chosen to present this idea of unique abilities and working as a team. The characters are adorable in just the way that we've come to expect from this Theodor Seuss Geisel Award winning duo, and they continue to show their clear understanding of how to reach a young audience!
Want to get a little sneak peek of the book? Check out the book trailer below:
Anna Kang and Christopher Weyant are the creators of Theodor Seuss Geisel Award winner You Are (Not) Small and its follow-ups That's (Not) Mine and I Am (Not) Scared. Christopher's work can be seen routinely in The New Yorker magazine and his cartoons are syndicated worldwide. As an author, Anna regularly goes through first, second, and third drafts. Chris wears down many erasers while making his art. This husband-and-wife team lives in New Jersey with their two daughters and their rescue dog. Visit them at www.annakang.com and www.christopherweyant.com.
Twitter: @annakang27 @ChristophWeyant
Instagram: annakangbooks; christopherweyant
Facebook: Anna Kang – Author; Christopher Weyant
For more information, and to download a free activity kit, visit annakang.com, or download here.