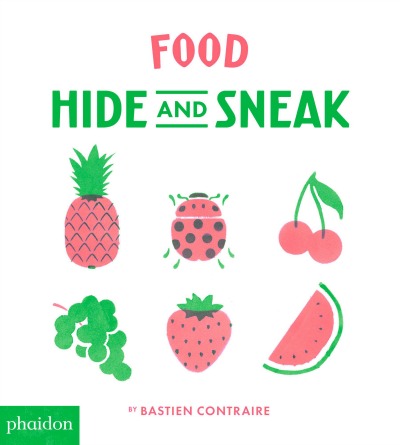 Publishing house Phaidon has three new board book releases that break the mold of what is usually expected from this genre. Here you'll find sturdy books for the littlest readers' hands that use playful humor and encourage interaction.
Food Hide and Sneak by Bastien Contraire is like an introductory version of those "search and find" picture books. It gives caregivers an opportunity to play a bit of a game with babies and toddlers to identify which image doesn't quite belong in a group, as shown on the book cover above. I can easily imagine a two-year-old having a blast with this book independently after the concept is explained, and with the brightly colorful illustrations, this is a delight to look at. Older babies and toddlers absolutely love to name objects, and this book allows for that while also encouraging young readers to think critically about the images together– quite a fun way to facilitate the act of comparing and contrasting!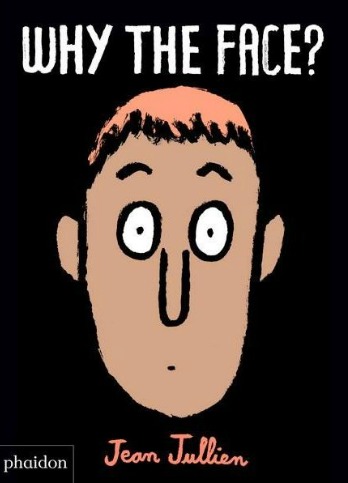 Jean Jullien's Why the Face? gives a playful nod to an adultish acronym while providing a question/answer format book for children that spurs them to examine cartoon faces and figure out what emotion or experience might accompany each. After asking the titular question, each face's page folds out to reveal the source of that expression– from a stack of freshly made pancakes and warm bread that elicit an enthusiastic "yum" to a pink-haired rocking trio making music too loudly, among others. I particularly like one page that shows two very different faces reacting to the same experience of seeing a collection of insects and bugs, with one thinking they're pretty cool while the other is grossed out. (Note: the genders I perceived of the two faces did not match the expected stereotype, so bonus points!) Parents will likely chuckle at one zoned out face and its source, and overall, this board book is full of laughs and surprises.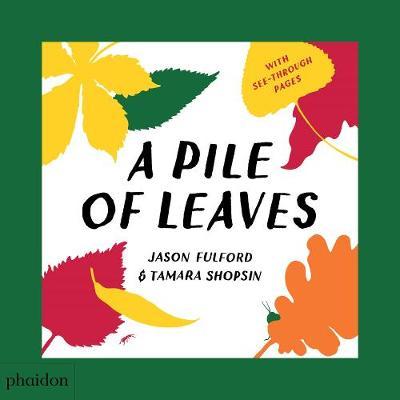 A Pile of Leaves by Jason Fulford and Tamara Shopsin is a (mostly) wordless book that plays with the idea of collage. After a note from the authors comparing a pile of leaves to a work of collage, the pages that follow are made from acetate and each features only one or two items in various colors. When a young reader opens to the first of these pages, the entire pile, or collage, is seen, and the act of turning the pages isolates each item or pair of items and rebuilds the collage from the opposite direction on the left side of the book. Caregivers can discuss shapes and colors with each page turn, and an appreciation for the ways in which the items are layered and appear together can be encouraged. This unique board book also provides the names of each leaf and other objects in the final page spread. This book is published in collaboration with the Whitney Museum of American Art and it's a lovely way to introduce young children to the art of collage, which as a former preschool teacher, I can tell you has been a favorite of many of my students!
These board books make for clever additions to a child's home library and would be wonderful for use in infant, toddler, and preschool classrooms.