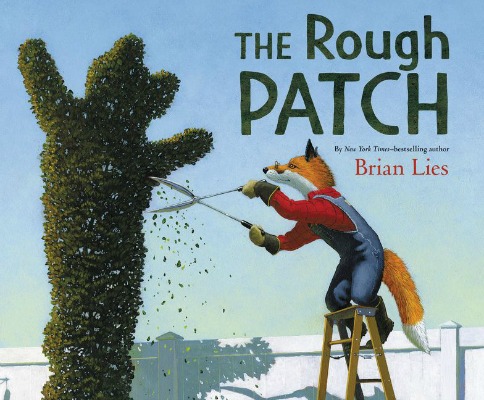 Brian Lies, well-known for his picture books Bats at the Beach, Bats at the Library, and Bats at the Ballgame, has created a new book with a more emotionally provocative theme. In The Rough Patch, readers meet Evan, an anthropomorphic fox who lives with his dog, his constant companion and best friend. They do everything together, most especially care for Evan's expansive and impressive garden.
Evan's garden is the epitome of life– lush green bushes towering high and bountiful harvests of sizable vegetables. Contentment and joy are apparent in both Evan's and his dog's expressions as they tend this fantastic space. However, things change in Evan's life with the passing of his dog.
The death of the dog is presented in just one line of text, accompanied by a mournful image on a white background of Evan gently caressing the dog as he lies upon his bed:
But one day, the unthinkable happened."
After this gentle depiction of the loss of his dog, the story proceeds to show the ways in which Evan initially handles his grief. Feeling lost and angry, Evan reacts by destroying his beloved garden, as it has become a painful place to be. In place of the cultivated plants, a mass of weeds eventually grow, and their prickly and wild nature appeal to Evan in his sadness, so he begins to care for these. The appearance of a different plant and Evan's response to it help him to move through his grief, bringing him out of isolation in his home back into a loving community, and even into a new stage of his life after the loss of his loved one.
Death is a serious topic, but it's not one to shy away from discussing with children, and if they experience the loss of a family or class pet, or a loved one, it can be challenging for them to articulate their emotions. Lies approaches this topic with this book in a way that acknowledges the typical emotions one can feel and makes them tangible in their representations in Evan's garden. Evan is a lovable character to whom children will likely be drawn, and empathy is what is encouraged in this reading. Lies' illustrations themselves incorporate details in the shading and lighting that evoke the same emotions Evan is tackling in a truly brilliant manner. This new picture book is simply perfection.