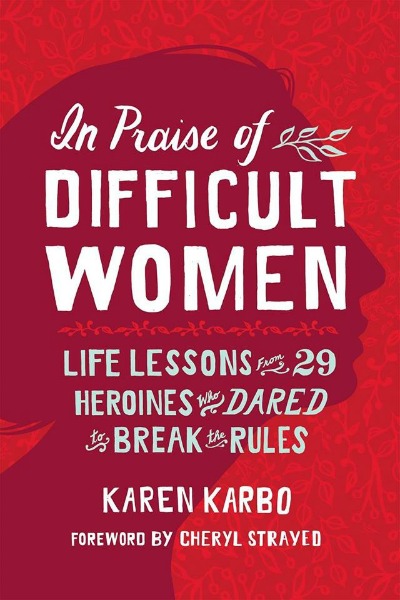 When used to describe a woman, the term 'difficult' doesn't usually conjure positivity. But readers may be seeing this description in an entirely new light upon reading Karen Karbo's collection In Praise of Difficult Women: Life Lessons from 29 Heroines Who Dared to Break the Rules, for the perspective here is absolutely a positive one. As Cheryl Strayed, author of the memoir Wild, says in the foreword:
These 29 fascinating, moving, entertaining, and inspiring essays explore the many facets of what it means to be female and "difficult"– which is really another way of saying female and "brave enough to express the full range of one's humanity."
Among the 29 women profiled, many will be familiar for their places in the entertainment business, politics, and sciences, such as Elizabeth Taylor, Gloria Steinem, and Jane Goodall. Others were mostly or wholly unfamiliar to me, such as Edie Sedgwick, Vita Sackville-West, and Diana Vreeland. The sight of some names in the contents made me cheer out loud, most especially Ruth Bader Ginsberg, Amelia Earhart, and Josephine Baker. Some of the author's inclusions will likely be questioned by readers (Lena Dunham, I'm looking at you… while I find you interesting, I can't quite buy you being heroic…), but that would likely be the case with any group of women selected.
Karen Karbo makes a case for how each individual has made her mark in the world with her own brand of 'difficult' behavior. Some of the women have serious challenges and no shortage of personal flaws, yes, and not all of their behavior is meant to be celebrated, per se, but acknowledged as revolutionary in its own time.
The chapter on Elizabeth Warren, subtitled, as you may expect, "Persistent," has one particular description that resonated with me personally, and it has to do with anger, an emotion that women are often discouraged from expressing but one that as a mother, partner, and citizen would be fruitless for me to ignore. As a politician, Warren finds herself in regular situations in which she expresses her anger at current events and other politicians, and she does so in powerful and constructive ways.
Of course, Elizabeth Warren has been called too angry– but my bet is that she doesn't much care. She is angry. This is what makes a woman difficult: She not only refuses to change her behavior when she is called a name– but she keeps right on doing it, with verve and conviction. If that's difficult, I'll have what she's having.
Whether or not each individual profiled here inspires you by their openness and courage, such as Laverne Cox and Billie Jean King whose gender identities and sexualities have influenced their careers, or by their fortitude in positions of power, such as Angela Merkel and Hillary Rodham Clinton, or by their perceived acts of defiance by simply being themselves, as was the case with Janis Joplin and Frida Kahlo, these women's stories are full of life and are interesting beyond measure.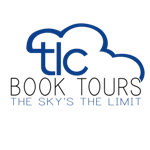 For more perspectives, check out the TLC Book Tour for In Praise of Difficult Women. 
Purchase Links: National Geographic| Amazon | Barnes & Noble