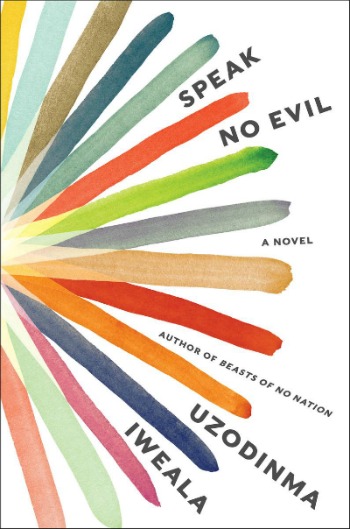 Niru is a senior at a prestigious private high school; intelligent and talented, his skills in the classroom and on the track and field team are well-documented. His immigrant parents have high expectations for him, especially his father who recognizes the great fortune he has provided for his children in raising himself up from his impoverished roots. His parents' religiously conservative values are apparent, but at 18, Niru is coming to grips with his own reality. He is gay, and though he is afraid to say it aloud and certainly cannot tell his parents, just thinking it fills him with a relief that can only come with finally understanding his identity. Uzodinma Iweala presents Niru's powerful story in his new novel Speak No Evil.
In his Washington, DC, neighborhood, wealth and privilege are everywhere, but Niru also lives this experience as a young black teen, so his perspective is often quite different than that of Meredith, his best friend, who is white and the daughter of influential DC figures. Their friendship has lasted years, though the feelings that they hold for each other by their senior year are markedly dissimilar. When Niru comes out to Meredith, it changes their relationship and puts in action a course of events that drastically change both their lives. I hesitate to provide any further plot points for fear of giving away too much.
This is the first book that I've read this year to absolutely blow me away. Though it's a slim novel at just over 200 pages, it packs a huge story in its pages. Extremely emotional, exceedingly impacting, and immensely telling about identity for people of color and LGBTQ folks, this book cannot be recommended highly enough. I haven't read Iweala's debut novel, Beasts of No Nation, but I want to now after being drawn in by his unique style and voice. It took me a short time to adjust to Iweala's nontraditional formatting, the lack of quotation marks to offset dialogue, for example. But this technique actually kept the flow of the story going at a pace that marked the urgency of the character's first-person narrative. When I realized that the book shifts perspective about 2/3 of the way in, I was disappointed at first. But when I got to that point, I understood the need for the shift and what it offered to the telling of the story. I absolutely loved this book, as devastating as it was.