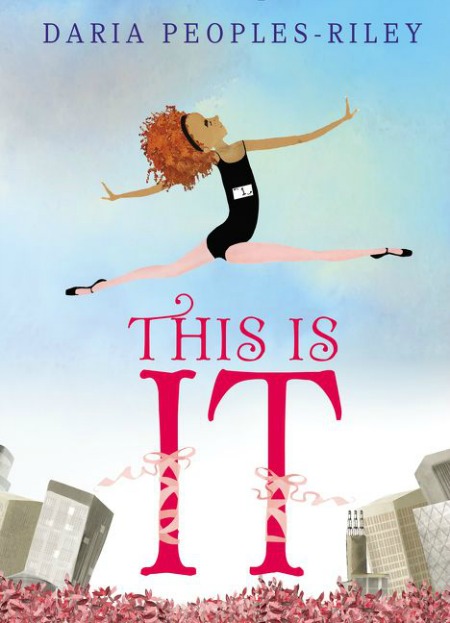 A young girl wearing a leotard and tights struggles to gather her courage and enter a dance studio where auditions are being held in the opening pages of Daria Peoples-Riley's debut picture book This is It. The cover image of the girl leaping and soaring, bursting with confidence, should reassure you from the start that she does indeed find the strength to audition, but not before having a heart-to-heart with her very own shadow.
That shadow, now sporting a tutu in addition to the leotard and tights, clearly knows what's what, and it isn't afraid to tell the young girl exactly what she needs to hear. Its words of positivity and encouragement remind the girl of her own power and skill, her innate love of movement and dance:
You've been dancing since you came to be.

Little bun and rosy cheeks.

Little hands and fat flat feet.

Up and up,

down and down.

Tapping toes 

on concrete street — 

DANCING!
The shadow's lyrical words guide the young girl as she walks along the streets of New York City, finding her grace and rhythm. In the end, she is standing tall and proud, ready to take the stage.
There's a power to this picture book that is relevant to children whether they have a love of dancing or not. The inherent message is one of self-confidence and bravery, two traits we all want to help instill in our kids, and this touching picture book helps do just that. I'm looking forward to seeing more of what Peoples-Riley produces in way of children's literature.