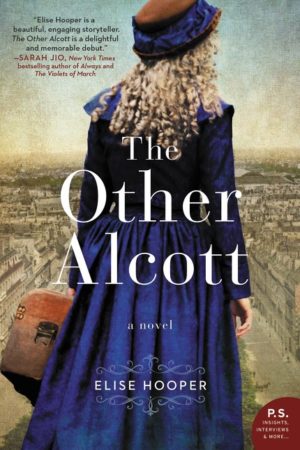 I am not a re-reader; there really are so many books and so little time that to spend that time re-reading seems a waste to me. There are, of course, exceptions, and one of those is what I consider my favorite book – Little Women. I love the setting, the relationships between the sisters, their adventures to balls and visits to their aunt.
While I haven't read all of the sequels, something I plan to remedy soon, I have read other fictional stories about Louisa May Alcott and her family. So when we were offered The Other Alcott by Elise Hooper, I jumped at the chance to read more about the Alcotts.
The Other Alcott features May, who despises the way she's portrayed in Little Women. She worries that everyone thinks she's pretentious and selfish like Amy, and to make matters worse, her drawings that were published in the book are panned by critics, called unrealistic and poorly executed. May wants to be an artist of her own right but is torn between her family obligations and her desire to learn as much as possible.
May sails across the Atlantic with Louisa, spending time in England while studying under various teachers and meeting other successful female artists along the way, until she and Louisa must return home. But she can't find what she is looking for in Boston as it is not progressive when it comes to women in the art world. She decides to return to Europe, ignoring Louisa's wishes, forming a rift between the sisters.
While women today have opportunities that the Alcotts only dreamed of, many readers will identify with May's desire to both have a career and a family. She lets Louisa pay her way until she starts earning her own money, craving independence and recognition in the art world. Love is not something she's really looking for but when it falls in her lap, she follows her heart.
I thoroughly enjoyed The Other Alcott and it's glimpse into another aspect of the Alcott family.