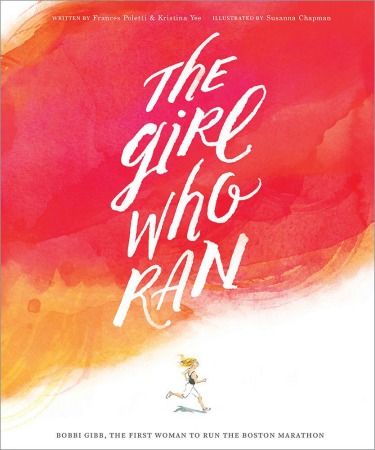 You must be crazy. You'll hurt yourself. It's not allowed. Women can't run a marathon. These are the messages Bobbi Gibb received when she expressed interest in running the Boston Marathon and had her application subsequently rejected. Authors Frances Poletti and Kristina Yee present this courageous and powerful woman's story in the new picture book The Girl Who Ran: Bobbi Gibb, The First Woman to Run the Boston Marathon, with illustrations by Susanna Chapman.
As a young child, Bobbi loved to run, just like many little ones, but she found that as she got older, her female peers stopped doing so. But to her, it remained a passion and a challenge she made for herself. In the woods, she would push herself to run farther and faster. When she became aware of the Boston Marathon, she knew she just had to run it.
But, in 1966, women were not allowed to enter the competition, so Bobbi took matters into her own hands. Dressed in a way to conceal her gender, Bobbi hid in bushes adjacent to the starting line and joined the crowd of men running the race. Not only did she finish, she beat about half of the competitors! She went on to run the marathon again in 1967 and 1968, and she also pursued higher education in fields predominately filled with men. In multiple aspects of her life, Bobbi Gibb worked hard to break through barriers in place against women's pursuits.
This picture book tells her story at a level most appropriate for young elementary school children, with illustrations that truly capture the feeling of running, "like the wind in the fire." Bobbi Gibb's story of tenacity and determination is an important one for children of all genders to learn, for she stood up for her right to participate in an activity that interested her, a lesson applicable to all.