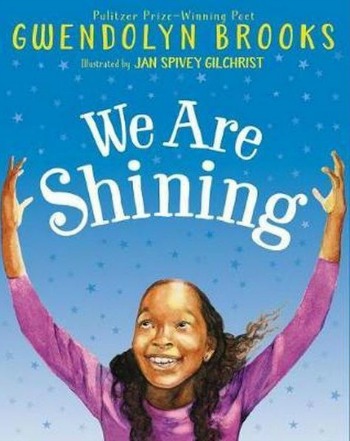 Gwendolyn Brooks, U.S. Poet Laureate and Pulitzer Prize winner, would have turned 100 years old this year. In celebration of that anniversary, her incredible poem We Are Shining has been published as a picture book for the first time, featuring illustrations by Coretta Scott King Award winner Jan Spivey Gilchrist.
Honoring the lives of children all over the world, this poem speaks unabashedly with heart and love. The words are simple enough to be understood by even young children, yet the meaning behind them resounds deeply. The relationship between the text and the illustrations is perfectly symbiotic here, in that they truly feed into each other with a touch of whimsy and through a representation of a global society.
I adore this particular sentence, spread across three two-page spreads of dream-like images:
There are children in the world all around me and beyond me — 

here, and beyond the big waters; 

here, and in countries peculiar to me but not peculiar to themselves.
Helping children to understand the scope of cultures around the world is challenging, but Brooks' touching words along with Gilchrist's illustrations help to bring this large concept into smaller, more tangible ideas. They address serious and complex issues of war and suffering, but it's done in a way that is gentle and understanding to a child's perspective.
This positive picture book deserves a place in all school and public libraries and is a delightful addition to classroom and personal libraries, as well.