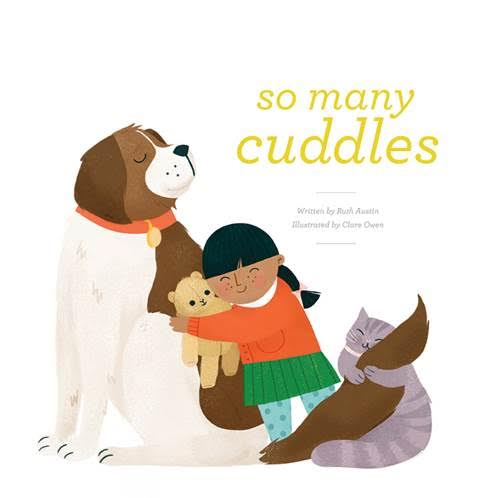 The cuddles of a small child are undeniably darling. In the new picture book So Many Cuddles, written by Ruth Austin and illustrated by Clare Owen, these types of showings of love are depicted between a young girl and her beloved dog and cat.
We wake up with
rise and shine cuddles,
bounding up to see
you cuddles,
and cuddles that say
I love you so,
so much."
Starting with those "rise and shine cuddles" and going throughout the day all the way to the "feeling very tired cuddles," the ups and downs of a child's day are celebrated and comforted in a variety of loving and supportive ways, albeit from two domestic pets in the place of a parental caregiver. The love, however, remains apparent and true.
As is evident from the cover image, the two animals often mirror the expression of the little girl, just one way that this book demonstrates the concept of empathy. Perhaps empathy is best explained through example, and it most definitely comes through in the touching text and relatable illustrations.
There is a minimalist nature to this book as a whole, making it a wonderful picture book to read to young toddlers who are accustomed to simple board books, but it will also appeal to preschoolers and emergent readers, especially if accompanied by cuddles from a loved one!