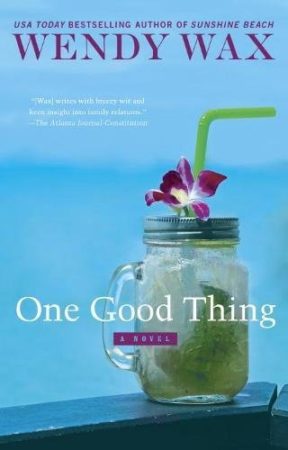 With summer around the corner, the beach reads are out in full force. What better way to spend a day at the beach than with a series that takes place at the beach?
The ladies of Do Over are back in One Good Thing, the latest novel in Wendy Wax's Ten Beach Road series, and things are not looking good for them. The network is willing to let them out of their contract, but they are not allowed to use the name Do Over or sell the footage from their last renovation, the Sunshine Hotel and Beach Club.
Maddy wants to be on the road with her rocker boyfriend, but feels she's needed by her friends and family. Nikki is pregnant with twins, regretting saying no to Joe's marriage proposals, and worried she won't be a good mother. Avery's own relationship is strained due to problems with Chase's youngest son. And Kyra is afraid they will lose the Bella Flora if they don't start selling cottages at the Sunshine so she can pay back the loan she took on the house. Added to the cast is Bitsy Baynard, the socialite who loaned the women money to renovate the Sunshine, whose husband has left her for another woman, taking all of her money with him.
One Good Thing is the first book where the ladies aren't actively renovating any property, other than turning Bitsy's cottage at the Sunshine into a tiny house, where everything has double or triple the function, and the actual renovations are barely mentioned. I miss that part of the series, where they have to find creative ways around roadblocks, both financial and construction-related, and rely on their wits and elbow grease to get things done.
While this novel has the feeling of a last novel in a series, I hope it's not, because there are still so many loose ends. I really want to see the ladies of Bella Flora get the happy endings they deserve, including Bitsy, and would love to see it return to the renovations that started it all.
If you've read the others in the series (for a refresher, see my reviews of Ten Beach Road, Ocean Beach, Christmas at the Beach (a novella), The House on Mermaid Point, and Sunshine Beach) then One Good Thing is a good continuation of the story. But more than the others, I would not recommend reading it standalone because I think too much would be missed.