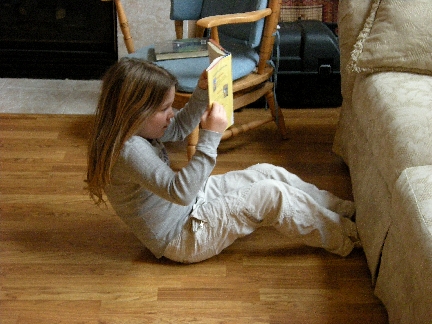 Sometimes avid readers combine reading and exercise, which is also a way that reading is good for us… 
As avid readers, we all know that reading is helpful for ourselves and our kids. But what if we could do good for others simply by reading ourselves? Sounds like a fantasy, right? Kind of like our ideal job, wherein someone gives us great flippin' wodges of cash for lying on our couch and reading books. (Hey, it could happen, right? Or do I need an actual genie for this?)
Penguin Books has teamed up with Save the Children to let your reading put books in the hands of needy children in local communities across North America. Here's how it works: Visit ReadWell.PenguinRandomHouse.com today through World Book Day this Sunday and read free, timed excerpts from Penguin books and authors and you'll trigger book donations from Penguin Random House to Save the Children — up to 300,000 books. Check the top of each timed excerpt to see how many minutes your reading will contribute and how many books we will donate.
Today only about one third of American fourth-graders are proficient in reading. By fourth grade, if children can't read at grade level, studies show, they are unlikely to ever catch up. This is serious! This is something with life-long consequences. If you can do something fun for yourself, like read books, and make Penguin get books into the hands of needy kids, this is pretty much a win-win-win situation. (Even better: go volunteer to read to needy kids. If you want to help refugee kids learn English and are in the Portland area, call me.)
So what are you waiting for? This only lasts through UNESCO's World Book Day which is Sunday, April 23rd. Visit Penguin today and get started! Also, check out  Charity Miles and Tab for a Cause, who are both partnering with Penguin on this, for special in-app and on-platform opportunities. Let's see who can get the most reading done! Also follow #ProjectReadathon on social media.