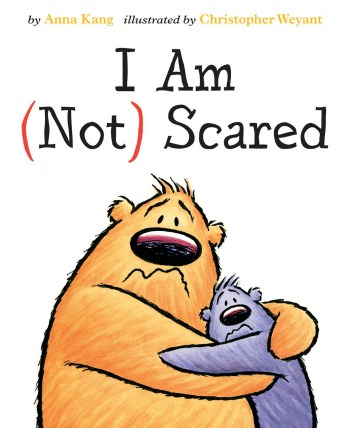 Anna Kang and Christopher Weyant have paired up again to bring their two furry friends back in a third picture book. I Am (Not) Scared sees the duo in a different scenario than their previous You Are (Not) Small and That's (Not) Mine, one that brings them together in their shared feelings… of being (not) scared, of course.
The title page shows their two fuzzy feet following a large arrow-shaped sign that says ENTER. With that setup, young readers will surely be curious about where the pair is headed. Before their surroundings are revealed, though, the small blue creature notices that the large orange guy isn't looking too comfortable. In fact, his face looks quite worried.
After some back and forth, the playful kind we've become accustomed to with these two, a large sign is revealed overhead. LOOP OF DOOM. Yes, it's a roller coaster that's got him scared, even if he doesn't want to admit it. But, his small pal tries to help him feel better by offering ideas of things that are much more frightening, things like a tub of hairy spiders or a pan of hot fried ants! Kids will surely be giggling by now.
By the time it's their turn to board the ride, they're both most definitely (not) scared. A surprise rider in the car behind them brings a whole new level of excitement, and the pages that depict the friends and their wild expressions as they ride through rising hills and upside down loops will keep the laughs coming.
These unnamed bear-like creatures have built up a chemistry that children will appreciate, in the vein of children's literature duos Elephant and Piggie or Frog and Toad. This picture book makes for a blast of a read aloud, or a fun book for an emerging reader to tackle on his or her own.