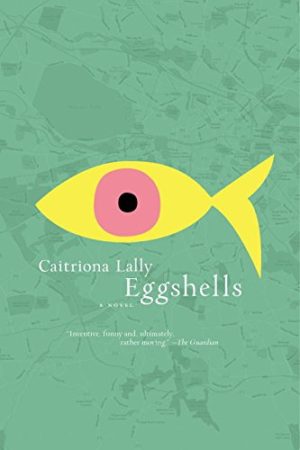 Vivian has never fit in, convinced she's a changeling and just needs to find the entrance to the world where she really belongs. To say she's socially awkward would be an understatement. Her sister has no patience for her and her neighbors just think she's crazy.
After deciding she wants a friend named Penelope, she puts an ad in the paper, and a woman who is nearly as odd as she is answers the ad. They strike up a very strange friendship that includes a very short trip to visit Penelope's mother at the seaside and digging a hole for Vivian to be buried in when the time comes.
Eggshells is very much a character-driven novel, and I did struggle a bit with both the lack of a plot and the whimsical language. Vivian is fond of lists, and there are several long lists of items such as types of butterflies or her favorite foods. But she's an unusual character and I was curious what she would do or say next. I liked that she mapped out the route she walks each day and then described the object the route resembled.
Vivian knows she's different and sensors herself to not appear odd to strangers, often without success. If she's not a changeling, she's either suffering from some kind of mental illness or just so brilliant that social norms are not only not important, but don't exist in her world.
If character-driven novels with eccentric characters and both humorous and sad moments appeal to you, then check out Eggshells by Caitriona Lally.