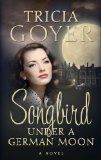 When WWII ended in 1945, much of the world breathed a sigh of relief. Many families were thrilled to know that their husbands, fathers, sons, and brothers would be coming home. Many soldiers, however, had to stay in Europe to stabilize the war-torn region, and Germany was under the military control of the Allies.
In her new novel, Songbird Under a German Moon
, Tricia Goyer tells the story of Betty Lake, an innocent young lady from California who travels to post-Hitler Germany to entertain the soldiers as a USO singer. Not too long after her arrival, mysterious and deadly events begin to occur. With the help of a dashing U.S. Army Corps photographer, Betty works to unravel the troubles at the Bayreuth Festspielhaus before she and the others remaining are harmed.
As usual, Tricia Goyer delivers a suspenseful tale that keeps the pages turning quickly. I enjoyed reading about Germany after the war, and I was especially intrigued by the setting in the Bayreuth Festspielhaus and the influence of the music of Richard Wager on the German people, including Hitler. Some aspects of the story were predictable (I think some of Tricia's other books have more surprising twists and turns), but I enjoyed the book immensely.
If you are a fan of historical fiction, be sure to check out Songbird Under a German Moon
and other works by Tricia Goyer. I enjoy her books every time!
To win one of three signed copies of Songbird Under a German Moon
, be sure to visit Tricia Goyer's website and enter her "What Era?" contest. You can also read more reviews of this book by visiting the blog tour page HERE.
Lauren is a wife, a mother of two, an avid reader. She is happy living in this era with air conditioning, hot water, and plenty of good books. Lauren blogs at Baseballs and Bows. She thanks Litfuse Publishing for providing the review copy of this book.