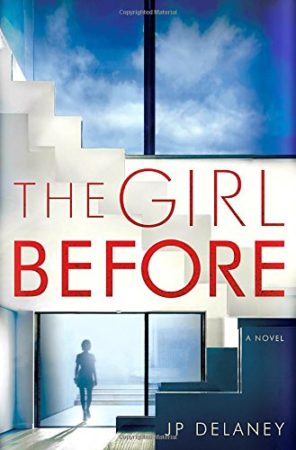 Ever since Gone Girl, there's been a rash of psychological thrillers featuring a female main character and some kind of a twist. The latest in these is The Girl Before by the mysterious J.P. Delaney, who according to Goodreads, "has previously published best-selling fiction under another name." I wonder who it is.
Emma and her boyfriend Simon are looking for a new place to live after having been burgled, and after turning down all available flats in London for one reason or another, their real estate agent suggests One Folgate Street. It's an unusual property in that there's a list of 200 rules to be followed and a rigorous application process that includes being interviewed by Edward, the minimalist architect. Emma is drawn to the idea of living with few possessions and making a fresh start and convinces Simon to apply.
A few years later, Jane is also looking for a new home after having lost her stillborn daughter, and is also drawn to One Folgate Street. After she is approved and moves in, she learns of the death of the previous occupant — Emma. The more Jane digs into Emma's death, the more she becomes suspicious of the circumstances of her death, wondering if Edward had something to do with it.
The chapters alternate between Emma and Jane and can be a bit jarring at times when the women are leading parallel lives. I occasionally couldn't remember which character was narrating, and had to rely on the different voices (Emma is third person, Jane is first) to remember whose story is being told.
One thing The Girl Before does is keep you guessing, and before long you realize that everything you thought you knew isn't quite the truth. And just who is the titular girl? You won't know until the end, even if you think you do from the beginning.