It's that time of year again. The time that our children have to come up with THE costume. If yours are anything like mine, on November 1, they are saying "Next year for Halloween, I think I'll be. . . . " My daughter Amanda never runs short on creativity in coming up with her costumes. I don't know if it's her creativity or my frugality, but between the two, we usually end up making her costume. My very favorite was when she was four (or five?), and she told me she wanted to be a "girl superhero."
I took an old baby blanket, attached some ribbon with the no-sew adhesive glue stuff, and made a cape. I bought a navy T-shirt and leggings and attached the A for "Super Amanda" to her shirt (although this led to a few guesses that she was Alvin, and this was even before the Chipmunks movie). She wore classes, so I attached her felt mask to her glasses frame. A bow matching the cape string for her ponytail and a dog temporarily playing the part of sidekick Shadow rounded it out.
How about trying a costume based on your children's favorite literary character this year?
Scholastic Parent and Child magazine is a great resource in general, and especially right now if you are strapped for a creative costume idea for your child.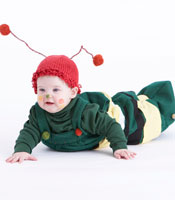 They offer step-by-step instructions for 6 easy costumes to make at home. Check out these ideas:
Captain Underpants
Angelina Ballerina
The Very Hungry Caterpillar
and three more!

Check out their article for all the facts and pictures of each of the costumes.

Would you like to win a set of Halloween themed books targeted to your child's age (U.S. shipping addresses only)? Just leave a comment here. Tell us about a creative costume you've come up with, or if you don't get creative, tell us what your child is going to dress up as this year. We'll draw a winner on October 22, so that you'll get your books in time to enjoy for the season!
Managing Editor Jennifer Donovan is a contributing editor at 5 Minutes for Mom. She has been blogging at Snapshot for over two years.