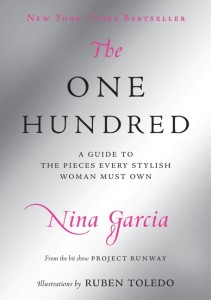 When I was asked to review Nina Garcia's guide to The One Hundred
stylish pieces every stylish woman must own, I eagerly emailed my contact at Collins Publishing with an enthusiastic YES!
I am an avid watcher of the hit TV show Project Runway, and I adore Nina Garcia. I love her understated sense of style, and I always anticipate her colorful descriptions of the outfits on the show. I have had the opportunity to review quite a few style and beauty books by famous style icons, and this is hands-down my favorite so far.
In The One Hundred
, Nina not only lists the pieces she believes should be a part of every woman's wardrobe, she also tells you how to wear them and where and how to buy them. She tells you the pieces that are worth investing a month's salary and the ones that you can skimp on. Not only that, The One Hundred
is full of clever quotes, invaluable fashion tips, and fun facts about the world's most iconic fashion items.
Of course, fashion is never one-size-fits-all, and Nina encourages her readers to find their personal style. One concept that is prevalent throughout her book is that style should seem effortless. Of course, the key word here is SEEM. If you want to look great, it will take effort. But the key is to look like you didn't try too hard. This concept was the topic of this post last week over at youlookfab. Be sure to read the comment section.
The other concept that is reiterated time and again throughout the book is that a true fashionista will always throw in something a little unexpected. This is what separates you from every other person walking up and down the street and gives you a signature style. I'm still working on this one.
The One Hundred
is a great addition to any style library, and I highly recommend it to anyone loves fashion.
If you'd like to win a copy, leave a comment here. We'll post the winner on Wednesday October 22.
Jo-Lynne blogs daily at Musings of a Housewife, and she runs a beauty product review blog, Chic Critique
Do you like these kinds of posts? You'll love reading Jo-Lynne's Chic Critique blog!