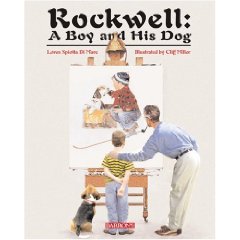 Barron's books have published a magnificent picture book series for children featuring famous authors. Each book tells the story of one particular artist (i.e., Picasso, Rockwell, etc.) in a situation involving children. These books are based on fact but build a story around something that would be familiar to children to establish an easy connection between the artist of the past and today.
For example, in the book Rembrandt and the Boy Who Drew Dogs we are told the story of Rembrandt's son, Titus, who possessed certain artistic traits. He begs his father to teach him how to develop his own artwork but Rembrandt is hesitant to do so until one day when he asks Titus to clean up the studio. Titus is distracted from the job (as kids often are) and begins to sit down and draw. His father stumbles upon the artwork with Titus carelessly leaves lying about and sees the talent which he son possesses. It is true that Rembrandt had a son named Titus (the only child of his who survived infancy) and who had an artist bent in his own right. He never became quite as famous as his father, but Titus did own his own art gallery and promoted his father's work.
These stories are cleverly and adorably told. In short, they make history come alive.
I love this series because they are illustrated by present day artists but the masterpieces are included throughout the story so the children get to see what great works these men produced so long ago. Enough information is shared so that today's reader can come to understand why certain paintings are still relevant even after all this time.
I found the easiest artist to connect with, personally, was Norman Rockwell – but ya gotta love the hometown American boy! There are many books in this series, included, by not limited to: Renoir and the Boy with the Long Hair, Rockwell: A Boy and His Dog, Leonardo and the Flying Boy, and Degas and the Little Dancer. (BTW, the Picasso book was tasteful but he's Picasso so . . . you'd have to explain a few things to your young reader.)
You can look up the entire Art Books for Children on Barron's website. I heartily recommend that you do so as the stories, apart from being entertaining, are worth knowing.
Carrie comes by her book obsession honestly, having descended from a long line of bibliophiles. She blogs about books regularly at Reading to Know.