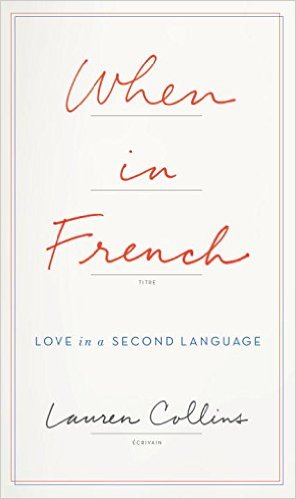 Do you like informative memoirs? I like to make up categories of genre, so this category, by my definition, is a memoir which shares a particular event or time or process, as most memoirs do, but with a fair heaping of information that you might find in a straight non-fiction book. When in French is this kind of book. It's also a really smart book. I had to look up words as I was reading (English words. Let's not even talk about the French words that went over my head), but now I know what a hodophobe is and what amanuensis means. Actually, I don't remember the second word, but I did look it up. A hodophobe is someone who likes to stay home in case you are stumped like I was.
Lauren Collins started her life in North Carolina. A job with  The New Yorker gives her flexibility, so she moves to London to experience a new country and culture. Since English is spoken there, so it seemed like a safe choice. While in London, she meets Olivier, a Frenchman. After a long-distance relationship, she relocates to Geneva to live with him. Because he speaks English well, French doesn't become a part of Lauren's life. After feeling tired of being an outsider — in Olivier's family, in the shops, and on the street — she decides to take a class to take responsibility for fluency in the language of her husband and one of the official Swiss languages.
She shares facts about the development and difficulty of various languages. I realized how much language and national culture affect everything from the way you pose for a photo and even affect the cut of beef you eat (French and American butchers cut the cow in different ways, so that some steaks familiar to the American don't even exist in France or Geneva).
A few worldwide anecdotes about the dangers of mistranslation helped me to realize how important it is to make sure that non-national language speakers are offered the same protection and care that native speakers have.
The way she explains her language acquisition and fluency helps the reader share her excitement, and honestly, made me want to dust off my high school and college Spanish. Whether you enjoy the study of language or just want to hear about one woman's journey to fit in, this is the book for you.