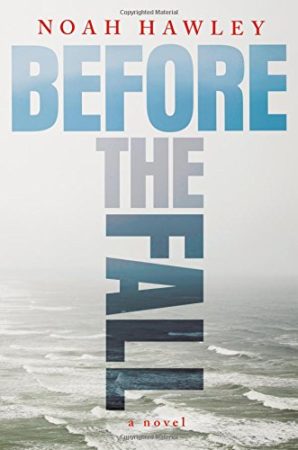 I've shared that I've been reading a bit less lately, but one of the things that has helped me is just reading what I want, when I want, meaning a few less review copies, and a few more books that I pick up. The Modern Mrs. Darcy's Kindle deals newsletter has helped me score many books at a low price, including current best sellers like this one (and some audiobook deals as well).
Since this book has appeared on many best of 2016 lists, I wanted to share my thoughts. When I started to write up my thoughts after finishing the book, I noticed that Nancy had reviewed it last summer. Her review is pretty much spot on with my thoughts, so I thought I'd just add a new introduction.
Here is Nancy's original review:
A small airplane crashes into the Atlantic 18 minutes after taking off from Martha's Vineyard. On board are the two pilots and a flight attendant, the billionaire owner of a TV news station and his wife and two kids, their bodyguard, a local painter, and a wealthy banker and his wife. The only passengers to survive the crash are the painter, Scott, and the 4-year-old, who manage to make it to shore alive after an all night swim.
Before the Fall explores the lives of the passengers and crew leading up to the crash, masterfully intertwined with Scott's present and the investigation into the cause of the crash. Was it intentional, related to the pending indictment of the banker, or did Scott, a last minute addition to the manifest, have something to do with it? Was there an equipment malfunction? These are just a few of the questions that officials have as they search for the other passengers and probe Scott's hazy memories of the incident in an attempt to determine exactly what happened.
Scott also has to deal with his new and unwanted fame as the man who swam for hours and saved the life of a little boy. His reluctance to speak to the press only increases their curiosity and speculation about his presence on the plane, as well as his relationship with the media mogul's wife.
Before the Fall starts out with a bang, slows a little in the middle, then picks up speed as more pieces of the plane are found and officials begin to understand what happened. The ending is a bit of a surprise but makes perfect sense when previously revealed clues come together.
Amazon has named Before the Fall as one of the best books of 2016 and is a great choice for a summer read.