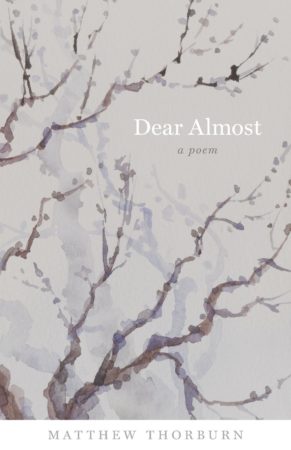 When a much-wanted pregnancy ends in loss, what are the parents to do? How can they grieve their lost hopes and dreams, their expectations that two would become three? When author Matthew Thorburn and his wife huddled together in a small dark room and heard the doctor pronounce the words "presenting as not viable," they didn't know how to handle their pain, unseen by most of the world and minimized by close family and friends.
Thorburn decided to weave his grief into his words. Dear Almost is a book-length poem written to his unborn child in which he sets forth some of the lost dreams, describes daily moments, mourns, and reflects on the passage of time. He says, "I wanted to show her what life was like here where she ought to be, with us, but wasn't."* The poem is organized into four seasons, showing change and forward movement while still acknowledging the stagnation of a moment when his daughter-to-be was no more.
Miscarriages are very common–nearly a quarter of known pregnancies end this way, and for unknown pregnancies (where the mother doesn't even know she's pregnant yet), the number could be as high as 50%, according to the March of Dimes. Yet as a society, we tend to gloss over these losses, telling grieving parents, "Try again!" or "At least you know you can get pregnant!" and not providing any framework for them to express their emotions. Dear Almost joins a slim collection of writings on the subject, most of the non-fiction works rather than memoirs. I think it's an important addition. As is so often the case, by writing personal details, Thorburn makes the terms of his loss universal. In Three Deer Beneath the Autumn Moon, he writes "This is the story of/what's missing, a space/one can see only/because we've filled in/everything around it:/keyhole I peer through/to what I can't hold."
*from an essay by the author in the September/October 2016 issue of Poets and Writers magazine.