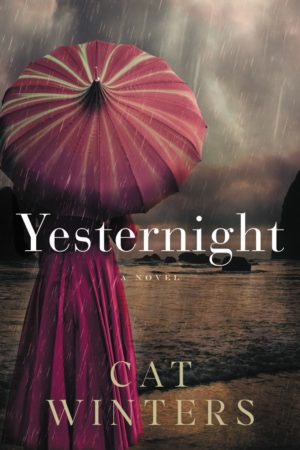 November, 1925. When psychologist Alice Lind arrives in the tiny coastal town of Gordon Bay, Oregon, in a terrific storm, she is literally knocked off her feet by the force of the wind. She is rescued by the handsome Michael O'Daire, who takes her to stay at the hotel he owns. Michael is one of the parents who requested Alice's presence in the small town. His daughter, Janie, is a precocious 7-year-old who startles her parents with apparent memories of another time and place, and who experiences vivid nightmares of dying by drowning. Alice, a trained psychologist, is skeptical; she doesn't believe in reincarnation, and is sure the child is reliving a past trauma or parroting stories told her by her elders.
She soon realizes she has stumbled into a very complicated situation. Michael and Rebecca O'Daire, Janie's parents, are divorced, and ugly rumors quickly begin to fly about Alice and Michael. Rebecca is determined to do all she can to keep the child away from her father, and scared to death that Janie will be either paraded in front of journalists as a sort of circus freak, or institutionalized as insane or demonized. She tried to keep Janie from Alice's scrutiny. Meanwhile, Alice does her job for the Department of Education, testing all the children in the tiny one-room schoolhouse and seeing who would benefit from either special education or, conversely, who needs to be challenged in new areas and would respond well to more intense levels of education.
But Janie doesn't fit any of Alice's preconceived notions. For a start, her parents kept a journal on her from the age of 2. Janie is uncanny. She claims to have memories of being a woman named Violet Sunday from Friendly, Kansas, where she died by drowning at the age of 19, while a dark-haired man watched her sink to the bottom of the water. Violet was a mathematical genius and Janie is as well, covering the walls of her room with a geometrical problem she just can't solve, that involves concepts the child has never heard of or been taught. Gradually, Alice comes to accept that Janie might be telling the truth.
Adding to all of this is Alice's own past–a troubled, violent childhood filled with blood-curdling nightmares, and an adult life spent striving to get ahead in a male-dominated field and a male-dominated world, where as a single woman she doesn't fit and can't satisfy her needs. Alice isn't always honest with herself either.
Yesternight manages to keep the reader guessing. Just when you think you see where it's going, there's another twist. Alice is an intriguing character, and the book definitely shows how constraining the world was for a bright, sexually awakened women of the time. It manages to blend realism with a touch of the paranormal, and leave the reader feeling a bit unsettled. I was initially unsure how I felt about the ending, but the final chapter contains yet another twist that I enjoyed, that left the finale and the character's futures wide-open. It's a good book for this time of year, and if you like creepy historical fiction, you'll love Yesternight.
Buy NowPurchase Links: HarperCollins | Amazon | Barnes & Noble
Author Links: Website, tumblr, Pinterest, Instagram, Facebook, and Twitter