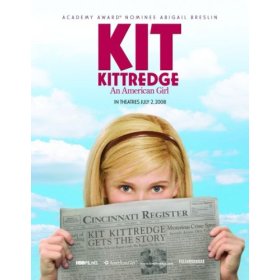 Like many other tween girls, my 9 1/2 year old daughter is an American Girl junkie. She has four dolls, and I don't know how much doll paraphernalia. We trekked to New York last fall to experience American Girl Place (let me tell you that nearly 10 hours in one store tested the limits of my patience!). She enjoys the books and adores the made-for-TV movies. So, of course, we had to make plans to see the first AG feature film, Kit Kittredge: An American Girl.
I haven't read the Kit books in the American Girls Collection , but CJ particularly enjoyed the ones she's read. On the American Girl timeline, Kit is a girl of the Depression Era (1934). She's a spunky 10-year old who wants to be a reporter. I think her gumption and tenacity are what drew CJ to her.
As with its small-screen counterparts, this feature film is an accurate representation of the era it depicts. I applaud American Girl for not shying away from the troubles in our country's history, but rather showing today's young girls that strength of character is far more important than circumstances. Kit's family faces financial difficulties, and she struggles with the ramifications that brings. Her schoolmates taunt her when her dad leaves for Chicago to find work & the family must take in borders to survive. Through hard work and determination, the family is able to survive even in the midst of great trials.
Kit Kittredge: An American Girl offers a great story-line and is stacked with a stellar cast, including Abigail Breslin, Glenne Headley, Chris O'Donnell, Julia Ormond, Joan Cusack, and Stanley Tucci. It's family-friendly, funny and heart-warming entertainment. Honestly, I was pleasantly surprised at the quality of the movie, considering its "G" rating.
If your girl is an American Girl, you will definitely want to take her to see Kit. If not, take her anyway…she's certain to become a fan, and you'll enjoy the good, clean fun.
Melissa has been captivated by books for as long as she can remember. She resides in Virginia and at Breath of Life.