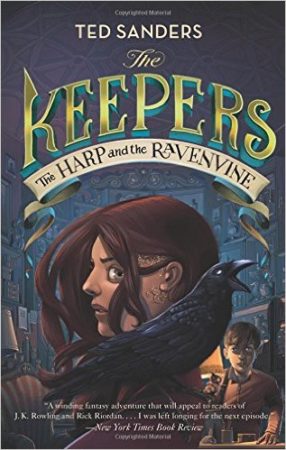 When my son and I read the first book The Keepers: The Box and the Dragonfly when it came out a year ago, we both LOVED it and anxiously awaited the next book in the series. Since we've now read the second one — even better than the first — I can say this is an excellent series that I want to recommend to all 5th to 8th grade readers and adults who love Harry Potter and the like.
Ted Sanders has built an imaginative world filled with characters who are strong, brave, and fearless.
This second book The Harp and the Ravenvine is amazing. There is so much action and further development of the world and characters Ted Sanders has created that we loved it even more. The new characters and situations that are introduced build nicely on the world that has already been established, creating more conflict which takes it deeper. We read this one aloud together, since we had both enjoyed the first book so much.
These are hefty books (this one is 650 pages) but there's no fluff. The writing is rich and full and the plot is wonderful. There is some swearing — even more in this one than the first (quite a few hells and damns), and this one gets pretty intense, both emotionally and with the action. Both of these elements mark this as a book for a more mature middle grade reader.
I love the writing. Here are some snippets I marked:
"Horace leaned back. A hot blossom of indignation exploded in his chest. He laid a hand on the box. 'I know I'm not perfect, but I–'" (page 208).
"Isabel looked back at April. Her small mouth was drawn into a small frown. 'I wasn't ready for this,' she said, her voice boiling brew of scared and sad and mad, and she climbed up the bank and out of sight" (page 371).
"The knot leapt painfully back into Chloe's throat. She gritted her teeth, willing her face not to move" (page 555).
It's interesting that all of these passages are describing emotion. I think that's the strength of these young characters with whom other young readers can identify. They are brave and scared and insecure and talented, selfish and loving all at once.
Seriously–this series holds up to timeless greats like Harry Potter, but it's such a shame that it takes some sort of miracle for a great book to get that kind of attention, and so many wonderful works of literature just fade away.
I hope that many kids will fall in love with this series and it will live long. If your child isn't intimated by a long book and loves fantasy, please get both of these books in their hands this summer.