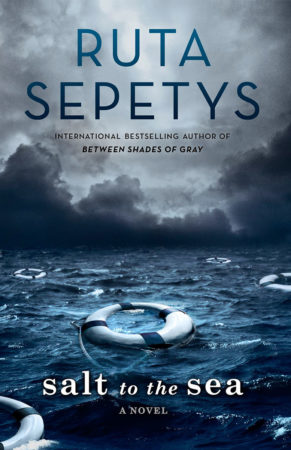 1945. Germany is falling to Russia and thousands of desperate refugees are fleeing before the advancing army and their atrocities. Johana, a young Lithuanian nurse, is traveling with a ragged group of refugees, caring for their wounds, keeping them alive and on the move. Motivated in part by intense survivor's guilt, she adds in a six-year-old boy, who was traveling with his grandmother until the morning she didn't wake up. The group includes colorful characters such as "Sorry Eva," so named because she'll state horrible things and then say sorry afterwards (Sample: "Her father was probably garroted with piano wire. Sorry."), and the Shoe Poet, an elderly shoemaker who notices people's shoes is very philosophical about them, and who sort of adopts the young boy.
Florian, a young Prussian man, has been working to copy and protect works of art that he slowly begins to realize the Nazis are stealing for themselves. He's now on the run himself, and has been wounded. He jumps into a potato cellar to hide from approaching planes, only to come across a young Polish woman, Emilia, about to be assaulted by a Russian soldier. He rescues her, only to find her tenaciously determined to travel with him. The two end up joining Joana's group, reluctantly on Florian's part. He wants to travel light, anonymously, and he finds danger in numbers. But all too soon Emilia's secret–that she's 8 months pregnant–is revealed, and she needs to be close to Joana.
Meanwhile, the young German soldier Alfred Frick dreams of the girl he left behind, a neighbor who barely acknowledged his existence. He writes her long letters in his imagination, reads Mein Kampf, and makes up rhymes to help him remember just who is on the list of undesirables.
Salt to the Sea follows the lives of these 4 young people, as they flee for their lives and end up on the Wilhelm Gustloff. Built as a luxury liner, the enormous ship promises safety, but we already know going in that it was torpedoed, and that its sinking was the single greatest tragedy in maritime history, resulting in a shocking 9400 deaths. (In contrast, the Titanic resulted in approximately 1500 deaths).
Author Ruta Sepetys has done a superlative job in bringing this little-known part of WW2 history to life in this book. She captures the reality and horror of war without making it too graphic or overwhelming. In fact, this book is geared at junior high and up. Each chapter is written from the point of view of one of the four protagonists. Tightly knit and moving, the story manages to tell of horrible things without overwhelming its readers, and ends on a note of hope rather than desperation. It's excellently done. Highly recommended.